A Guide to Class Registration
How class choices can help pave the way to the future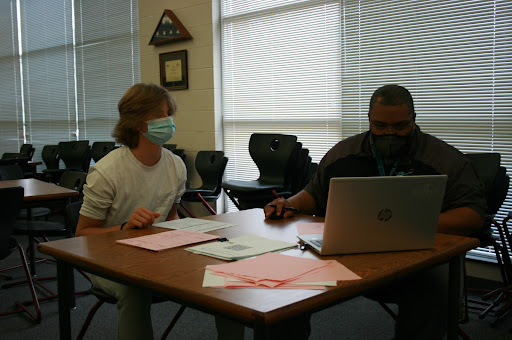 The month of February is a time of some stress for students, especially upperclassmen. It is a different kind of stress. Not stress about grades or current classwork, but for the upcoming year. Class registration is a big part of how the next school year will be shaped, how people perform in classes, and the relationship between student-teacher dynamics.
High school is a time to start preparing for the future. It is very important for students to find and sign up for classes that pique their interests, and not to just sign up for something because they think it will be easy.
 Your classes and credits can determine your acceptance into colleges, which help you find a career path for the world outside of school. While a lot of students may feel like there aren't any ways of expressing their career interests in high school or feel like they don't know what they want to do, there are actually a lot of classes to help find a post-college path, or better prepare yourself for a path if you've already found something of your interest.
A common career interest among high school students is engineering. Engineering seems like a focus that is only expressed in classes during college, but there are lots of classes at Reagan that will help you start to pave a more concrete path towards a career in engineering.
Technology, Engineering, and Design and Technological Design are classes offered to Reagan students, which cover different aspects of engineering. Engineering is also heavily math related. Math classes such as Honors Math 1-4 and AP Calc or Stats are offered at Reagan, which would compliment engineering classes.
Drafting and computer science classes are open for students to take. Drafting 1-3, computer science 1-2, and design classes such as Tech. Engineering, and Design, Technological Design or Engineering Design are great courses to take if students are interested in careers along the lines of architecture, engineering technicians and mechanical drafters, who lay out designs for machinery. There is an abundance of classes for students to take who are interested in engineering and machinery careers.
Business and financing are other big career interests for high school students. Business classes offered at Reagan vary from Business Management and basic Marketing, to classes like Sports Marketing.
"I take Microsoft PowerPoint here at Reagan." freshman Evan Brannon said. "It's an interesting class, and the teacher's great. I've learned a lot of useful skills for handling personal finance and software for the professional world."
Classes students choose should reflect their career interests, but classes more importantly are a key aspect of college admission. 
"I have found that a lot of high school students in general are comfortable sitting at standard or honors level classes," guidance counselor Kristen Fulcher said. "But challenging yourselves by taking more advanced level classes are what colleges notice the most, and recognize the initiative, even if you don't make as high a grade as you would in a standard or honors class."
While some classes encourage students to express their career choice and enhance their college admission options, certain programs also dive more in depth to help students better their chances at getting accepted into the colleges of their choice and to help carve a more concrete career path for students' futures.
The Career Center in downtown Winston-Salem offers some courses not available in regular high schools, such as Drone Technology, Video Production, Cosmetology, Auto Tech and Nursing. Specialized classes such as the selection at Career Center are made for students who want to participate in the subject after high school.
Career Center classes also offer more in-depth alternatives to classes offered at regular high schools.
"I take Culinary Arts & Hospitality." junior Reiley Midkiff said. "It's like the Foods class here at Reagan, but you go more in-depth at the Career Center. We learn how to prepare meals, and then we learn how to serve them to people like you would at a restaurant. It'd be a great class for someone who wants to work in the culinary business as an adult."
The Career Center's more unorthodox class selection offers students to express their creativity in more ways than thought possible in a school setting.
"I take Music Production at the Career Center." junior Boone McIntosh said, "The class is incredibly fun and would be very helpful for anyone who would like to pursue a career in music production after high school and college."
College credit classes for high school students are available to take at Forsyth Tech. Students interested in getting college credits or enrolling in a dual acceptance program can find classes to take at the community college level..
As class registration is being held over the month of February, there are lots of things to consider, such as credits, college admissions and post college career paths.
"The classes you take in high school are to help you find a path for your college education and your life after college," Fulcher said.
Leave a Comment