Where is the mascot?
Students, school officials open to bringing back mascot suit after several-year hiatus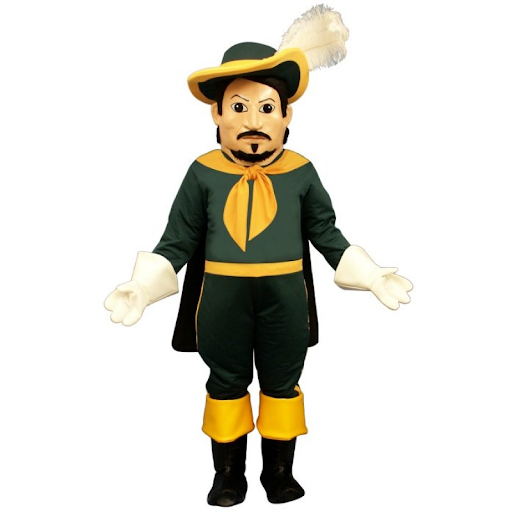 School spirit is ripe at Reagan's athletic events, with the thrill of the game, the energy of the crowds, everyone seems to relish in the rivalry of school sports. Traditions are created and continued at games, and general heritage among a school is upheld. 
One thing that is absent from games this year is a school mascot. The Reagan Raider used to be a staple at important events such as the Homecoming game. The Raider used to fuel the energy among the student population, but now it has seemingly vanished. Where did it go?
The Reagan Raider is the official mascot of the school. There used to be a real life mascot who would occasionally show up at sporting events.
"We used to have a mascot who would occasionally show up at football games." Principal Brad Royal said, "We just haven't had that in a while."
The Raider started early in the life of Reagan, in the late 2000's. Around the mid-2010's, the Raider stopped showing up at sporting events.
"We had to get rid of the costume at some time." Royal said. "It was clunky, the colors weren't right and nobody wanted to wear it."
The original Reagan Raider mascot costume looked much like a pirate mascot. It lacked the spirit specific to Reagan. 
Since then, the sidelines of sports games have been barren and mascot-less. New students would not notice, but students and staff who have been around long enough can notice the vacancy of the sidelines. Perhaps it is time for the Raider to return.
"I think bringing someone back as an in-person mascot would be great," said senior Ashley Belnap. "It would bring a new level of energy to games, especially to football and basketball."
Members of Spirit Club are also on board with the idea of bringing an in-person mascot back.
"Having someone wear a Raider costume would be pretty cool," said sophomore Jonah Baker, a member of Spirit Club. "Having someone out there dressed as a Raider would give games more entertainment aspects than they already have. It would probably give games a more universal appeal to people who already wouldn't want to go."
The original Raider costume now costs a total of $519. While $519 is indeed costly, it is in line with other Reagan fundraisers. $519 is approximately the value of an entire graduating class each donating $1.
While a mascot is something Reagan hasn't seen in a few years, now is a better time than any to bring back old traditions and introduce new ones. A mascot would be the perfect way to bridge old and new Reagan heritage.
"I am very open to the idea of reintroducing a mascot for school sports games," Royal said. "I think it would be a great way to recognize one of the oldest Reagan traditions and carry it into the future of our school."
Leave a Comment