Reagan JROTC: Home away from home
Reagan JROTC is a class that provides opportunities for all students
The Reagan Air Force Junior Reserve Officer Training Corps has been described as being an amazing, fun and life-changing class as well as a home away from home.
"JROTC is definitely like a home at school," said cadet Second Lieutenant Andrea Puentes. "It's a place where you can grow educationally and mentally as a person."
 The instructors are Chief Douglas McIntyre and Major Mark Benyo. JROTC is a year-long class that's divided into eight different classes, otherwise known as flights. Students who are in the JROTC program are known as cadets. The class is cadet interactive with various staff positions within the corps. 
In class, cadets learn content pertaining to aerospace science, leadership and basic military functions. Once a week, each cadet wears their proper uniform that is given to them at the beginning of the year.
"It's not a class like any other class," Benyo said. "We do a wide variety of things from life lessons, to academics, to advice and mentoring of what students are going to experience in the future or what they are currently experiencing."
There are also teams that cadets can join based on their own interests. The various teams include rifle, drill, color guard, academic, raider and cyber team. Each individual team practices on their own time outside of school hours and participates in numerous team competitions throughout the school year. 
"The whole goal of the program is to take somebody and teach them that through hard work and dedication they can accomplish things that they thought they couldn't accomplish," McIntyre said.
Both McIntyre and Benyo said that they have the same end goal for their students to be their best and for them to do the right things as civilians and for them to take care of others.
"We are both going for the same targets," Benyo said. "We want them to know that while we push them hard, that we care more about them and their growth as people than just about hitting certain markers in the classroom. They always know that they can come to us and talk."
But due to starting the school year virtually last year, there were fewer interactive activities within the corps, which meant fewer competitions, practices, corps events and interactions between the instructors and students. 
"Last year during virtual, it didn't feel like it was a whole corps," said sophomore cadet Captain Taeryeong Kim. "This year, JROTC is definitely more active than last year. Teams are now going to and competing in competitions, and classes are doing more interactive activities." 
Since the beginning of the school year, the JROTC class has already experienced major accomplishments and participated in many activities like the blood drive, Veterans Day parade, the Forsyth Tech Veterans Commemoration and a cadet receiving the Rising Raider achievement  all during the month of November. 
"Being back as a whole corps really feels great," said junior cadet Captain Logan Best. "And to have everything running like it used to be really made JROTC what it is. Going to big events with the whole corps really makes us a program."
As there are more corps events and students can take this class multiple times, many cadets have expressed that there is a special connection within the corps and that it's like a second family.
"It truly feels like a family," said junior cadet Captain Hayley Groff. "Even if I didn't know someone well, as soon as I find out that they are in JROTC I have an instant connection to them and take them in like family." 
Each of the cadets express that they feel welcomed and feel a part of a family with JROTC with lasting memories that they will keep with them. 
"Without the corps. I would have no idea what I would be doing with my life," said senior cadet Major Jessica Branch. "The memories that I have made throughout the years I was with JROTC are the things I will cherish forever."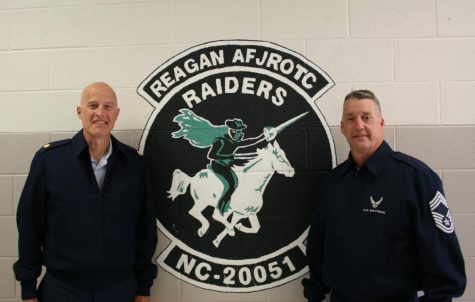 Many cadets have mentioned their high respect and gratitude towards Benyo and McIntyre for being their role models and some say their father figures of the JROTC family. 
"Major and Chief are like the parents of JROTC," said sophomore cadet Airman Basic Savannah Allen. "They are more than just teachers. They're the people who push me to do my best and always want the best for me."
Benyo and McIntyre both want something that the students and staff members of Reagan can be proud of and they believe that they have accomplished that with JROTC. As they accept new cadets each year, they are more than glad to continue their work with all current and future cadets.
"If a student is willing to come here and learn," Benyo said, "we are always more than willing to teach and mentor them."
Leave a Comment