How early is too early to decorate?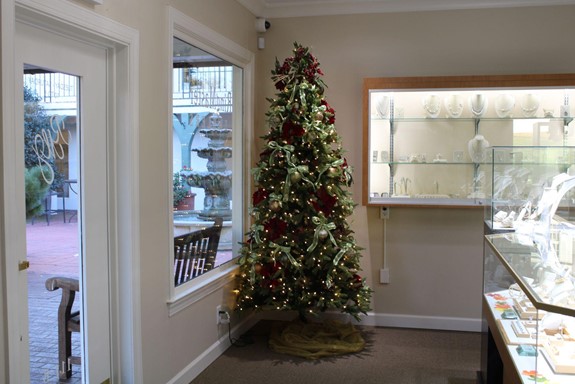 When the holiday season begins, people disagree on when the right time to decorate for Christmas is.
Generally people begin decorating for Christmas around Thanksgiving. However, some decorating fanatics bring out all the lights and inflatables right after Halloween.
"People set up decorations too early sometimes," said freshman Audrey Donny. "Decorating right after Thanksgiving is the right time. I don't decorate my room, though."
Many teenagers place individual decorations in their rooms, such as small Christmas trees. 
"I have a tiny Christmas tree that I set up, but that's about it," said junior Weston Lankford. "I set up my decorations after Thanksgiving. We have a group decorating session, but that's at the main house."
Conflict may begin in different households if different people want to decorate at different times. Audrey and her sister, sophomore Frances Donny, disagree on what to decorate. Decorating individually has solved the decorating debate in their house. 
 "I don't decorate my room for Christmas, it's too much work," Audrey said.
The extent of how to decorate is also a hot topic for debate. Whether there is such a thing as too many decorations is where people disagree. 
 "My parents don't have any restrictions on how much we can decorate," Frances said. "I always decorate my room. My parents even got me a small live tree for my room last year." 
As a whole, people agree that there isn't really a time that's "too late" to decorate for Christmas, as long as the holiday hasn't already passed. 
"Decorating the week of Christmas is too late though," Frances said. "You need to decorate before December so that your advent calendar can be accurate."
Those who value and genuinely appreciate Thanksgiving often have strong opinions on when the appropriate time to decorate is. Many believe once December begins people could decorate for Christmas. 
"I think people decorate too early," Lankford said. "They forget about the other holidays, everything just gets really crowded. I love Thanksgiving too, it should be its own holiday."
Consumers may have decorated early due to the surplus of decorations for sale this year. Corporations such as Hobby Lobby sell Christmas decorations year-round. Seeing these decorations on the shelf makes consumers more likely to buy them while they're available. 
"About 40 percent of consumers surveyed by the National Retail Federation say they begin their winter holiday shopping before Halloween — a number that has remained steady for more than a decade," said Kori Rumore for the Chicago Tribune.   
Christmas decorations at Reagan aren't unheard of. The Reagan Student Government Association is hosting a holiday spirit week before Christmas break. Included in the spirit week is a door decorating contest. Reagan has held decorating contests for teachers in the past as well. 
"Each first period teacher gets to decorate their door this year," said SGA advisor Chris Borkowski.
Some teachers decorate their classrooms with mini christmas trees as well, bringing the Christmas spirit to students directly. Other teachers gain nicknames like "Scrooge" or "The Grinch" since they don't decorate for the holidays. 
"I don't decorate at all for Christmas- not at home or in my classroom," Borkowski said. "I hang up a wreath and that's the extent of my decorating."
Some Reagan students decorate yearly with a Christmas tree in their homes, whether the tree is artificial or live. Decorating a Christmas tree is the main holiday tradition that students have at home. Some people decorate their homes simply, using wreaths. Others decorate outside with manger scenes, inflatables and pre-lit reindeer. 
"Real trees smell like Christmas, so getting a real tree brings home the spirit of Christmas," Frances said. "Plus, is it really Christmas if you aren't finding little evergreen needles everywhere?"
Leave a Comment