Yes 4 Mental Health: A Club Creating Change
Mental health is a pressing issue with today's teens. High school comes with an enormous amount of social and academic stress that can leave students mentally unwell. The Yes 4 Mental Health club at Reagan is doing its part to combat this problem.
Started this year at Reagan with club sponsor Jeremy Levingood, the Y4MH club is very new and important for Raiders, especially coming out of an online school year and a global pandemic. The club offers a space for students to talk about mental health and just relax with fellow raiders.
"The purpose of this club is to spread happiness and practice mindfulness," club president Halak Chauhan said. "We want people to understand how important it is to take care of their mental health."
The club focuses on building connections between its members and finding an escape from the stress they feel. There is no set schedule, but the club meets almost every Monday in room 424. They will start their meetings by addressing what activities they have planned coming up and after discussing their agenda, they usually talk and play their fair share of Just Dance.
The Y4MH club has been able to do a few activities this year, such as making and distributing valentine's day candy grams to help spread a little bit of kindness at Reagan.
"I liked making the candy grams,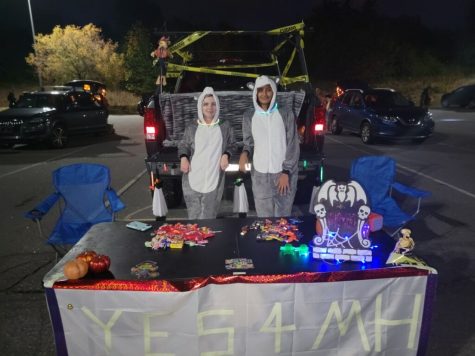 I thought it was really fun and creative,"  sophomore Allie Bontrager said.
According to Bontrager, club members were able to pack the candy grams with cards and candy then put them into the teacher mailboxes to be handed out.  This simple activity gave students the ability to buy gifts for people they care about and brighten someone's day.
Another activity the club was able to do was a bake sale. Being able to bake and enjoy delicious sweets is a major stress reliever and many of the club members loved being able to do a bake sale.
"My favorite memory would be the bake sale we held," Chauhan said, "Everyone from our club participated. We had so much fun selling and baking all of the different types of goodies."
Asha Waston is a sophomore at Reagan and has found the club to be a great community of supportive raiders.
"I have enjoyed my time in this club," Watson said, "I love hanging out with my friends that joined the club with me and the new friends I made while being in it."
The club is a sanctuary for its members and helps support the important mission of raising mental health awareness.  Whether it's dancing their hearts out or just being able to have someone to talk to, the Y4MH club has helped many Raiders and will hopefully continue to in the future.