Reagan staff recognizes outstanding students with Teacher's Choice Award Tea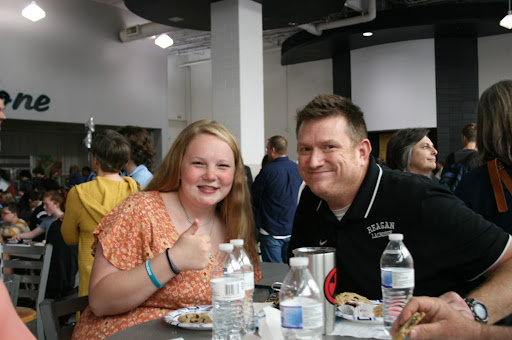 The Teacher's Choice Award Tea is a Reagan tradition dating back to 2008 and involves the entire Reagan staff selecting one student per year to honor and invite to a ceremony where they will be recognized and receive an award. 
This year's Teacher Tea took place on April 7 after school. Students, parents and teachers alike all gathered in the auditorium in preparation for the ceremony, which began with a congratulatory speech from principal Brad Royal.
"This is one of the greatest awards that students can be selected for," Royal said. 
Royal went on to commend the students for being chosen, as well as recognize how superb the staff is. After he finished, Latin teacher Jessie Craft began reading out the students' names in alphabetical order accompanied by the name of the teacher that nominated them to come up to the stadium and be given a certificate.
Amid raucous applause from the audience, each student received their certificate as well as a hearty handshake from Royal. Once the last name was called and the last hand was shaken, the celebration moved to the common area where a buffet line of dainty desserts such as brownies, goat cheese scones, chocolate chip cookies and Dewey's cake squares awaited. Here the students and their parents could meet with the staff member who selected them as well as mingle with other participants.
"It was a lot of fun to be with the people that got the same award as me," said senior Anna Hauser, nominated by teacher Scott Pharr. "And all the teachers were really nice as well and super supportive."
The atmosphere in the cafeteria was upbeat and enjoyable, as smiles could be seen all around, especially from the proud parents. Even though it was a bit crowded, everyone seemed to be having a good time.
Senior Charlotte Craver was chosen by assistant basketball coach Wingate Smith. When asked what receiving this award meant to her, Craver responded by saying it made her feel good to be chosen by Smith.
"He's been one of my favorite teachers," Craver said.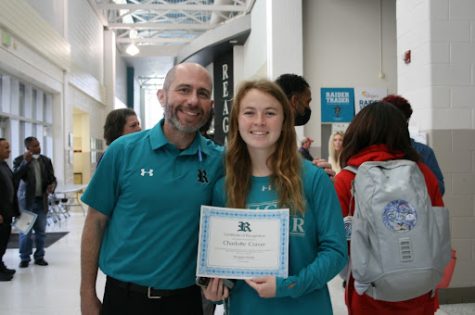 The criteria for choosing the student who receives the award is not concrete and varies from teacher to teacher. It can be a student who tries their hardest every day, one who has the best attitude, a student who has improved the most, or virtually anything else.
"They have to be in my class for at least two years," said French teacher Robert Richwine, when asked about his selection criteria. "I look for someone who is nice and who participates in class and just always makes my day better."
Chemistry teacher Susan Buchanan said that she chose junior Owen Bounds for this award because he makes her smile every day. This goes to show that to appeal to teachers and be selected to attend the Teacher's Tea, one doesn't have to be first in the class or be masterful in the given subject. All it could take is showing kindness or gentility that teachers very much appreciate.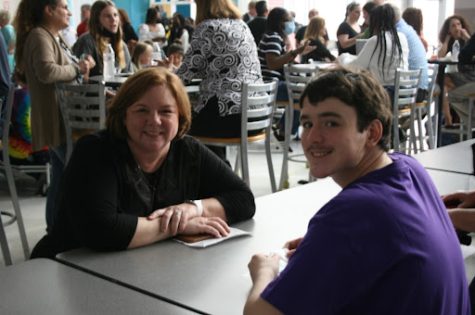 "It makes me feel happy that a teacher can put up with my shenanigans," Bounds said. "It makes me feel special in a way that a teacher hand chose you as their student of the year."
Technology Education teacher Ryan Crater chose freshman Hannah Stewart because according to Crater, her values and morals are second to none out of all his students.
"It means a lot," Stewart said. "It means the world to me to be recognized and be able to work in such an environment. It's very nice."
As Royal stated in his opening speech, the Teacher Tea was started because the teachers felt like students needed to be recognized for what they meant to them. This award certainly does just that, and will hopefully continue to be a treasured Reagan tradition.