Double Fudge Mint Cookies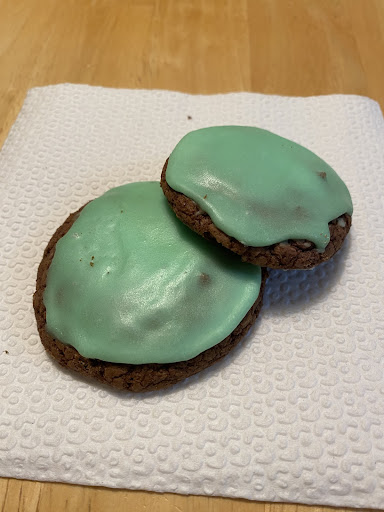 Anna Hunt, Co Editor in Chief
December 21, 2021
Baking delicious recipes with my family is one of my favorite things to do during the holiday season because it usually results in lasting memories and fun traditions. If you're looking for a mouthwatering recipe, this Double Fudge Mint Cookie recipe will be perfect. It has to be one of my favorite cookie recipes that I've made this year.  
While making these cookies from scratch may take longer than using a store-bought mix, avoiding the shortcuts will result in the authentic fudge taste of the cookies which makes the effort totally worth it. These rich cookies will remind you of an Andes Mint, but in a fun, festive cookie form perfect for the mint and chocolate lovers in your family. 
This recipe has a prep time of about 40 minutes, a bake time of only 8-10 minutes and yields anywhere from 24 to 30 cookies depending on their size. The best part is that at the end, you can customize the cookies to your preference.
Double Fudge Mint Cookies
Ingredients for the Cookies:
1 cup semi sweet chocolate chips

1 cup flour

¼ cup cocoa powder (I recommend Hershey's cocoa powder)

1 tsp baking powder

½ tsp salt

5 tbsp butter (salted)

¾ cup brown sugar

¼ cup granulated sugar

2 eggs

1 tsp vanilla extract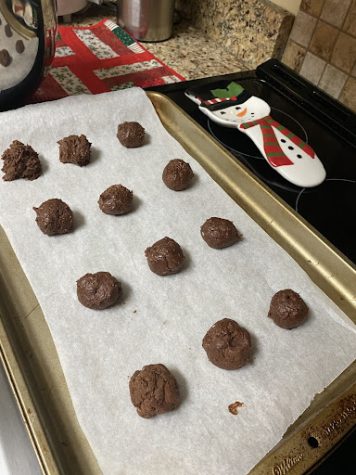 Ingredients for Mint Frosting:
1 ¼ cups powdered sugar

2 tbsp melted butter

2 tsp corn syrup 

1 tsp mint extract

2 tbsp milk 

2 drops green food coloring 
Extra Toppings: (Optional)
Fudge Drizzle: 
½ cup semi sweet chocolate chips

1 tsp butter
Crushed Candy Canes:
Directions for Cookies:
Preheat the oven to 350 degrees Fahrenheit and line cookie sheets with parchment paper. (I recommend waiting to preheat the oven until right before you begin to scoop the cookie dough.)

Combine the flour, cocoa powder, baking powder and salt, set aside.

In a medium bowl, cream butter. Then add brown sugar and granulated sugar until the mixture becomes smooth. Beat in eggs one at a time and stir in vanilla until well blended.

Melt chocolate chips in the microwave in 25 second increments stirring each time

Stir in melted chocolate with the sugar/butter/egg mixture in Step 3.

Mix in the dry ingredients from Step 2 until just blended. Leave the mixture for 10 minutes so the chocolate can set up.

Scoop dough out in roughly tablespoon sized balls and place on cookie sheet.

Bake for 8-10 minutes (9 minutes worked for me). Allow the cookies to cool completely before applying the frosting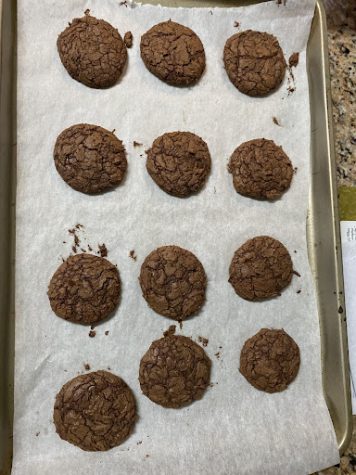 Directions for Frosting:
Whisk together ingredients for the mint frosting. Once cookies have cooled for at least 15 minutes, spread the mint frosting on top.

If you want a "melted" mint look, apply the frosting when the cookies are barely warm.

For the chocolate drizzle, (even though I didn't do it) melt butter and chocolate chips, stir together, and apply as desired.
To check out the original recipe, visit here.