The show must go on
Reagan students to perform "Noises Off" in hopes to revive community
The Reagan theatre department has begun preparations on their comedic fall play, "Noises Off."
The fall play, showing December 2-4, was originally going to be "Clue." A year without theatre was difficult for many. Student actors around Reagan are grateful to be back in school and on stage. 
In 2021, the theatre department put on a production of "Alice in Wonderland" in the spring. While not a musical as traditionally presented in the spring, the show did allow the Drama Club to have a performance despite a different year. However, Jenn Janus, director, is doing things differently this fall. From moving around audition times, to how she chose the cast, it's a whole new world. 
"When I changed the show, I didn't have a lot of time," Janus said. "In fact, I had to push auditions back two weeks just so I could get ready. We have about 20 days to work out the blocking for a three-act show."
"Noises Off" is a comedy about the world of theater. It encompasses the emotions of actors toward each other as well as toward the show itself. Throughout each act the show gets worse until Act III when the actors can't even remember their lines. 
"It is a play within a play," Janus said. "The first act is final dress rehearsal, and already you can see lots of challenges happening and relationships between the cast members. The second act is a couple months later, they're travelling and you see it from backstage. You hear the same dialogue and see some of the action from behind the set."
Casting was taken in a new direction too this year. With multiple showtimes, and two casts, "Noises Off" is pulling out all of the stops. 
"Different people play certain parts on the Saturday matinee since it's a smaller show," Janus said. "Usually there's better turnout for the Thursday and Friday shows. It was a way for me to include more people… since there were so many people at auditions. Growing the theatre community is also important."
Cast members are grateful to be back on stage again. However, some begin to doubt their skills after not being in a real production for almost two years. 
"I'm pretty excited," senior Kendyl Shaughnessey, who plays the stage manager, Poppy, in the second cast. "I'm nervous because I have a bigger character than I usually do. But I feel like it's going to be a good show with my cast."
Since the play itself was changed so quickly, Janus had to start over in the production process. Since "Clue" was well planned, Janus has concerns about switching to "Noises Off" without having much time to plan.
"I just finished retyping the script," Janus said. "I do edit the script, a play like this we couldn't do otherwise. That was the hardest thing when I decided to change shows, because I personally like to type up a script so that I can be best prepared. But now I'm going back to the drawing board."
Reagan students are encouraged to participate and help with the play and the creative side of it. The set is what the play is known for. It is a two story set that includes eight opening and closing doors, as well as a window that someone will crawl through. 
"Moving the whole set around is a challenge," said junior Kate Vogler, stage manager. "Tech usually moves things around, so we'll have people go out and help rearrange the set."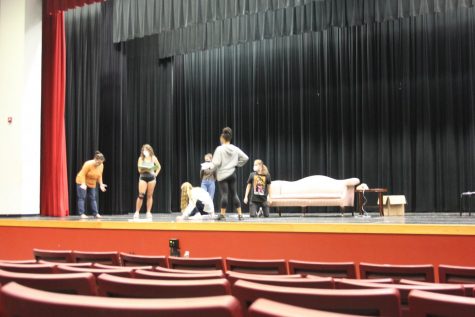 With the sudden schedule changes, actors in the show must quickly adjust as well. Many have strategies to efficiently complete homework since the rehearsal is daily. 
"Rehearsal is usually Monday through Thursday," junior Kaeden Palmer, who plays the director, Lloyd, said. "Near the beginning of the show we only have practice for an hour or two, but as we get closer to the show date that can increase to four or five hours."
Another concern for the drama department is advertising. The play is scheduled to show December 2-4, 2021. Tickets will be sold in advance for $5, and $7 at the door.
"This is a very humorous play," Janus said. "I hope that we get a big audience. My only concern is that people haven't heard of 'Noises Off,' the way that they've heard of 'Clue,' so we're just trying to market that." 
The cast overall is excited for the play. A few are nervous regarding the time crunch, yet most are excited to be back in the spotlight. 
"We have just about two months to put the play together," Palmer said. "I think it will actually turn out great. Any frantic stress and chaos will actually just add more realism to the show."
Leave a Comment