'Shang-Chi' blows away audiences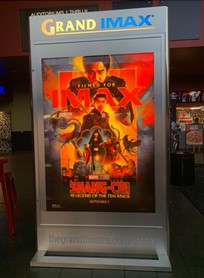 Marvel Studios released "Shang-Chi and the Legend of the Ten Rings," to theaters on Sept. 3, 2021. Directed by Destin Daniel Cretton, the film has received a 92 percent rating on Rotten Tomatoes' Tomatometer and 98 percent on Audience Score. Within the Marvel Cinematic Universe, this places "Shang-Chi" in 7th place for the Tomatometer rating and 1st place for Audience Score. Even with the movie's lack of promotion, Shang-Chi has become an immediate box-office hit.
Shang-Chi, played by Simu Liu, is a seemingly normal hotel valet worker from San Francisco who is almost always in the company of his best friend Katy, played by Awkwafina. When the Ten Rings army find Shang-Chi, a whole other side of him is introduced to audiences. The film follows the friends on an adventure as Shang-Chi is forced to confront his past which has come back to threaten him and his distant sister Xialing. Shang-Chi's background is shown in flashbacks, and which builds up to explain his present situation. Throughout the film, both new and known characters from the Marvel Cinematic Universe make an appearance, and of course, there is also some epic action.
When watching a Marvel movie, the question, "Have I watched all the necessary Marvel movies to understand the current one I am going to see?" is very common. "Shang-Chi" is a good example of a Marvel film that you could watch with almost no prior knowledge. The background history of "The Legend of the Ten Rings" is explained early on, as well as how it ties to the plot. The very few Avengers tie-ins are so brief that no serious background is necessary in my opinion. However, a bit more explanation of Shang's father and his interactions with the Avengers in the past would have been helpful because they were not accounted for in the film.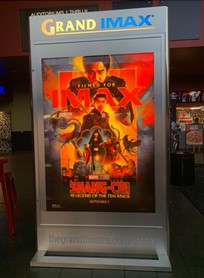 The concept of introducing a brand new character to MCU, explaining their backstory, and displaying their skills all in one movie seems overbearing. Shang-Chi is excellent at achieving all that needed to be done in two hours and 13 minutes. The plot moves swiftly between different settings, each of which differed drastically from the other. Transitions between the past and present are clear and easily differentiated. The build-up from the beginning is set excellently by the characters because of the actors' incredible performances. Lots of ground is covered in this film, but even then it leaves exciting space for potential sequels.
One of the best aspects of the "Shang-Chi" movie is how new characters keep being introduced all the way until the end, and they are all incredibly dimensional.  When facing potential threats, audiences see Katy become more serious than she has previously been. Though Xialing has anger towards Shang-Chi, she pushes that aside and reconnects with him when necessary. And just when viewers are sure Wenwu (Shang's father) has all bad intentions, they turn sympathetic and conflicted after learning the reasoning behind his actions. Additionally, the character relationships feel very real, and the family dynamic in the film leave many people very emotional.
To be expected from a Marvel movie, the action is incredible. We wait almost no time for our first fight scene, and it does not disappoint. Neither do any of the others. The martial arts-based action remains exciting throughout the length of the film, never becoming boring or repetitive. Each fight scene is different from the last, and continuously keep viewers on edge. Overall, I hope to see more fight sequences in future Marvel films to be handled in a similarly creative sense.
"Shang-Chi" is the first Marvel film to bring Asian representation to the MCU. With it being the 25th Marvel movie, it does seem as if that should have happened earlier. There is great importance in having representation in a franchise as large as Marvel, so the release of Shang-Chi is highly anticipated because of that. Of course, Chinese culture is seen constantly in the entirety of the film, and the inclusion of characters occasionally speaking in Mandarin Chinese is specifically enjoyable. The martial arts-based action is captivating, and the cinematography during scenes based in China and the ancient village of Ta-Lo are some of the most beautiful in the MCU. This film definitely should have received more promotion from both Marvel and Disney so that more movie-goers could experience the incredible Asian culture within it.
For over a decade, Marvel has consistently maintained its spot as one of the best cinematic franchises in history. As a whole, the Marvel universe is an amazingly intricate (forgive me) "web" of heroes and villains alike, but here and there I have gone to see a movie that in itself I didn't love. Parts may have been slow, the storyline too confusing, or the action too repetitive. However, "Shang-Chi" is none of that. I highly recommend going to see it in theaters because it is now my favorite Marvel movie. It was an amazing introduction and background for this new character, and I can't wait to see what Shang-Chi brings to phase four of the MCU.