Crock-Pot Fridays fill bellies, warm hearts
New lunchtime tradition fosters comradery and connection between Reagan staff
It's the last day of the week, and anyone walking into the upstairs 400 workroom is greeted with the smell of barbecue.
Crock-pot Fridays is a new informal event at Reagan that was started by psychology teacher April Sapp,  with the help of chemistry teacher Susan Buchanan and English teacher Amber Bryant. This feast for teachers began when Sapp made too much chili and thought to share it with her coworkers. 
This simple act of leaving homemade chili in the teacher workroom has started a new tradition at Reagan. Whether it's bringing plates or a huge slow cooker of BBQ meat, many staff members have found a way to pitch in.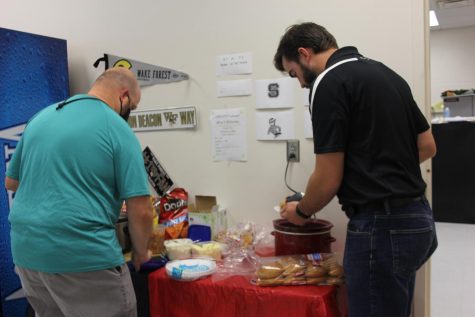 "We just do a signup, and anyone who wants to contribute contributes," Sapp said "There's no pressure, we're just trying to have something fun to do on Fridays." 
Many delicious meals have been prepared for Crock-Pot Friday, and according to Sapp, her favorite dish has been Buffalo Chicken Chili brought in by Bryant. 
Crock-pot Fridays have also become about more than just food. Sapp will decorate the room for the nearest holiday or college football game. If it's a game week, staff members may make predictions on the game's outcome and the winner receives a gift card.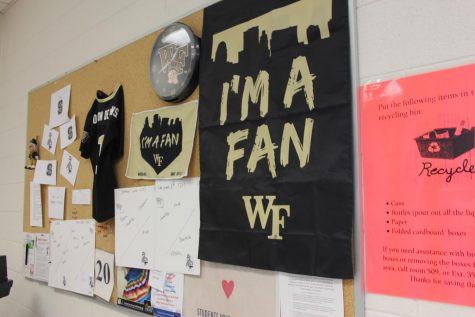 An undeniable sense of community comes with Crock-Pot Fridays. The event gives teachers the opportunity to come out of their room and eat together, and after a year of being separated, many Reagan staff members are eager to dine together again. 
"[Crock-pot Friday] has boosted morale in a time of transition and adjustment," said French teacher Robbie Richwine.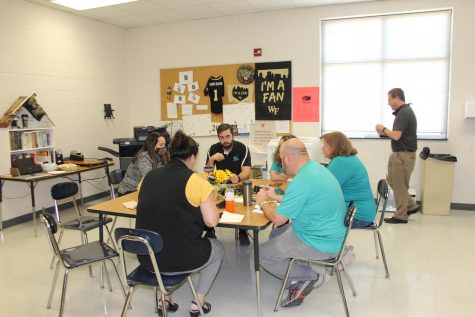 Teachers will gather around the table in the teacher workroom and take the time to talk and laugh with their coworkers. From debating the length of a guitar solo in "Free bird" or just telling stories, Reagan's staff takes the opportunity created by Crock-Pot Friday to enjoy time with their fellow employees. 
"I feel like the smell of food makes people happy," Sapp said. "We realized that having food in here is a morale booster." 
The healing quality of a good meal and the company of friends has made these Fridays a haven for a lot of Reagan staff. On Fridays, teachers are able to return to their classrooms with full bellies and lifted spirits. 
Bryant's Buffalo Chicken Chili was definitely a favorite for Reagan staff. This can be a source of comfort for anyone who makes it, and if you accidentally make too much, there is no doubt your coworkers and friends wouldn't love to have some.
Ingredients:
3 chicken breasts, cooked and shredded
3 cups low sodium chicken broth
½ cup Buffalo sauce, or more to taste
1 4 oz. can chopped green chilies
1 14.5 oz. can fire roasted tomatoes
1 15 oz. can corn, drained
1 15 oz. can navy beans, drained and rinsed
2 tsp chili powder
2 tsp cumin
1 tsp garlic powder
½ tsp onion powder
1 packet ranch dressing mix
4 oz low-fat cream cheese, softened
½ cup plain Greek yogurt
Directions:
Combine all ingredients except cream cheese and yogurt in a large pot. Cook on low for one hour. Add the cream cheese and Greek yogurt and stir until blended. Cook on low for another 30 minutes and serve.
Recipe inspired by Recipe Runner