Play Preview: Reagan's "Alice in Wonderland"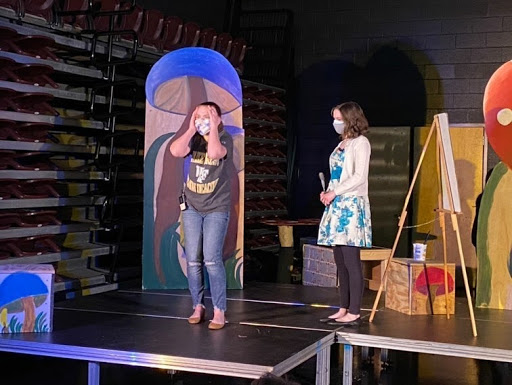 This year's school play is unlike any other performance in the past. The play of "Alice in Wonderland" will be held outside on Reagan's campus in order to accommodate the CDC guidelines of social distancing for COVID-19.
Reagan's "Alice in Wonderland" will have two show dates this year. On Tuesday, Mar. 23 and Friday, Mar. 26 the plays will be performed. Both showings start at 7 p.m.
The play will take place in the bus/staff parking lot at Reagan. With the play being shown outside, audience members are allowed to bring their own lawn chairs and/or blankets in order to view the show.
Along with socially distancing, audience members must wear a mask at all times. Parties can sit together when watching the performance.
"It is nice that it is outside because we can have a live audience," said stage manager Madison Hepler. "It's much more rewarding for the actors when they have a live audience. It makes it feel like a more normal performance."
The play of Alice in Wonderland was chosen by drama teacher Jenn Janus. Janus has helped choose and lead the plays every year that she has taught at Reagan.
Senior Elizabeth Gambill plays the main role of Alice. This is the first Reagan play that Gambill has participated in.
"My favorite part about playing Alice is getting to spend time every day after school with the cast," Gambill said. "With COVID it's been hard to interact with people, but this play has given me an opportunity to meet new friends. I am really happy and thankful to receive this role."
Abby Timmons, a junior at Reagan, plays the role of Queen of Hearts. Timmons has participated in past plays at Reagan.
Junior Aiden Feria plays Cheshire Cat in this year's play. Feria has been a part of the past Reagan performances for the past 3 years.
"I get to have so much fun with movement on stage," Feria said. "I also get to use a very different voice for the dialogue. The role is also different from how I act which is fun."
Alyssa Eaton, a senior at Reagan, plays the role of White Rabbit. Eaton has been in the productions of Christmas Carol, Sound of Music, and Radium Girls at Reagan.
"I have more stage business that I have had in some previous roles," Eaton said. "White Rabbit is a fidgety character. I love playing around with the role."
With the play being outside, the cast has to also practice outside. At every practice they have to carry the set and props outside to the bus lot and also back into the building.
"Because we practice outside, we've cut down on a lot of set things and even changed the shape of the stage," Hepler said. "It also just makes it a little more interesting since it takes place in Wonderland."
Along with a change in stage size, the cast has been practicing with different technical aspects. Microphones, lights, and costumes this year are completely different than past years in order to accommodate to the outside setting.
Tickets for Alice in Wonderland will be sold for $5. They can be bought at the venue in the bus/staff parking lot.
Play members recommend that audience members park in either the student lot by the side of the school or in the Career Center lot by the front of the school.