Reagan High School Football Season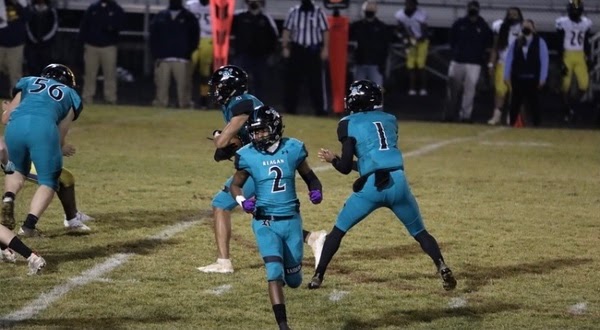 Football has always been a big part of Reagan High School. This year football has started later than usual, but that has not stopped everyone from being excited about the new football season.
Reagan High School played Mount Tabor High School on Feb. 27 and lost 22-15 in a tough game.
Reagan beat South Iredell 44-16 on March 5. Reagan plays four more games this season before the playoffs.
Due to complications with the COVID-19 pandemic and flooding in the Reagan football fields, the 2020-2021 football season will be a pretty different season for the sport. 
"This has been the most difficult year of coaching I have had in my career," said head coach Josh McGee. " There are so many things that are always changing and nothing really stays consistent. Although the frustration is there, we are all very thankful to have the opportunity to play in this shortened season."
Although the team has had a shaky start, the team is focused on the season and very motivated.
"We didn't start the season off the way we planned on but after the win against South Iredell really set us up with the momentum heading into conference play," said senior defensive back Zach Shaw, "I believe we are the top team in our conference due to our work ethic."
Because of the shortened season, each individual game is more important than ever. 
"Not looking too far down the schedule, the plan is to go 1-0 each week starting with Glenn this Friday," Shaw said.
While varsity prepares for their match with Glenn this Friday, junior varsity is staying strong with their 1-1 record. 
Reagan's Junior Varsity team beat South Iredell 39-0 improving their record to 1-1. Reagan junior varsity football is looking strong in its coming season.
The next junior varsity game is this Friday against Glenn. Glenn junior varsity has a clean slate as of now, which makes this Friday anyone's game.
This year, the junior varsity team has shown that when they put points on the scoreboard, they stack on as many as they can as seen in the 39-0 against South Iredell. 
This football season has been met with many complications because of its enforcement of COVID-19 precautions with the team and with the fans.
"Covid has made this a season to remember with having us wear a mask on the field and not being able to get in the weight room or work out this much in the offseason," Shaw said. "I think it's great that we are getting progress with beating this pandemic and I know how exciting it is to have at least some students in the stands in upcoming games."
State Governor Roy Cooper has since signed an executive order stating that students and fans can now again attend school athletic events at 30% capacity.
After late 2019, this will be the first time students will be able to attend football games in North Carolina.
At Reagan High School, the students are passionate about sports. The increased capacity of outdoor sports venues to almost half capacity will start making the school year feel more normal, and bring back the passion to our school's football program.