Varsity cheer team reflects on first season with new coach
Reagan's cheerleaders always add a sense of encouragement and liveliness to every sporting event they attend. No one can deny the spark that they bring to Reagan game days.
Saleen Gardner took over coaching Reagan's varsity cheer team this year while simultaneously starting her first year as an OCS TA at Reagan.
"I've been coaching for a really long time, but this is my first year coaching high school, so it's been a new experience," Gardner said.
With her mother, Gardner owns Power Cheer and Tumble Allstar Gym in King. She first started coaching a team of young children when she was about 12 years old.
"I kinda just grew up with that team," Gardner said. "All those kids have graduated now, which is crazy."
To Gardner, all star and high school cheer aren't the same. Both the rules and the environment are different, but she describes both as a fun experience.
"I've had a lot of help," Gardner said. "The former coach, Lauren Hicks, shared a lot of information with me and [former JV coach] Tanner Shoesmith as well. She gave me one of the rulebooks."
Heather Johnson, a teacher at Rural Hall Elementary, coaches JV cheer and has helped Gardner a lot as well, especially when it comes to managing her time between Reagan cheer and all star.
"There are days when I definitely need a nap, but Heather is really great about helping me out," Gardner said. "There are some basketball games that she has done varsity for me so that I could be at work. And I also work it out with other coaches at the gym to make sure there is coverage when I can't be there."
Within the time that Gardner has coached the varsity team this past year, she believes she has formed strong relationships with the girls. 
"I feel like we've developed a pretty strong relationship," Gardner said. "It's been super fun building relationships with the kids and really getting to know them. They all have such different personalities and different strengths."
Team members definitely agree that their bond has grown strong in the short span of time that they have known their coach.
"It was an amazing experience getting to know coach Gardner," varsity team member and junior Audrey Meadows said. "She has so much fire and passion for this sport and is always pushing us to be the best versions of ourselves that we can be."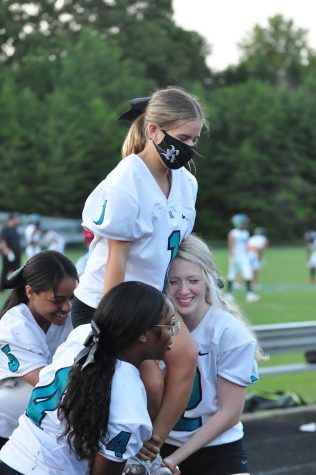 Varsity team member Leela Flomo, a senior, feels like her bond with Gardner goes past cheer.
"Getting to know her this year has been great and I feel very comfortable talking to her about things even outside of cheer," Flomo said. "I also like her coaching style. We're able to get a lot of things done and she gives us the ability to give our own input on the things we're doing as well."
Varsity captain Cameron Morris, a senior, admits to feeling nervous upon hearing about getting a new coach after tryouts. Months later, she has gotten to know Gardner very well and is enjoying her time as captain.
"I find that we work well together and she is a good role model to the team," Morris said.
Additionally, Morris says that her position on the team as captain has had many positive effects on her.
"It has taught me how to be a leader as I grew into my position as captain," Morris said. "I also have learned how to get over anxiety and fear through performing and trying new stunts."
Currently, the Reagan cheer team is not competing. The largest reasons for that being that Gardner and Johnson didn't get to pick their teams, and both of their first year's coaching.
"We inherited both teams," Gardner said. "So with it being our first year here and kinda getting an inheritance of a team, we wanted to give it a little bit of time and have time to build the program a little bit before we tried to compete."
Currently, the team's main focus is wrapping up this season and starting tryouts for next year's team, which Gardner has mixed feelings about.
"We'll be done with the basketball season in late February, and then we will hold tryouts in April or May," said Gardner. "I'm looking forward to it because it'll be a fresh year. I'm not looking forward to it because it is a lot of work."
This year, there are five seniors on the team, and Gardner feels sad to see them go. 
The seniors all feel heavily impacted by their time on the team, and will take away valuable lessons with them once they graduate.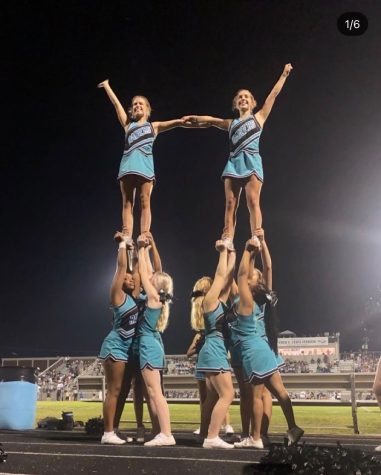 "Once I graduate, I will take away the experience of not being afraid to build relationships with new people," Flomo said.
Sophie Belle, freshman, a was recruited to the varsity team which Gardner inherited. Belle was initially intimidated by being a freshman surrounded by upperclassmen, but has grown very grateful for the experience.
"Getting to grow relationships with upperclassman really helped me branch out and gave me an upper hand in high school," Belle said.
As the end of the season slowly approaches, the team has gained many memories that they look back fondly on, notably, the win against the East Forsyth football team. Juniors Abby Cook and Rylee Swaim both agree that it was their favorite game.
"Honestly, every day is a fun day with them, there is never a dull moment," Gardner said. "It's been a really, really great year. We've made a lot of memories."