Track teams look to transition indoor success to outdoor season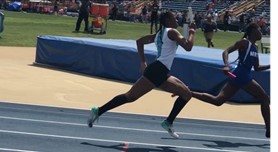 After finishing last year's track season with state championship rings in the 4×1 relay for the  men's indoor season and the 4×2 relay in outdoor track, Reagan's hopes were high coming into this year's indoor track season. 
Reagan's track and field program has been top tier in relay events such as the men's and women's 4×1, 4×2, and 4×4. This indoor season, the bar was met again with the mens and womens 4×2 teams qualifying to compete in the state championship track meet that was held on Feb. 12. 
With speed from senior sprinter Vincent Wilkins and sophomore sprinter Andrew Steele on the men's 4×2 the men's winter team performed to high standards. Wilkins runs a 6.56 second 55-meter dash and leaves the majority of his opponents looking at the word "Reagan" on the back of his jersey. 
Steele has surfaced as one of the best jumpers in the state, winning the open men's long jump at the Virginia Showcase rising to a personal best, and North Carolina No. 4 with a 21-8.75 feet. Although he performs in the field events, he has exhilarating speed on the oval. Running a 36.88-second 300-meter dash at JDL Fast Track earlier this indoor season, he has risen to the top, currently placing 8th for sophomores this season in North Carolina in the 300.
"Hard work and focus on the track has really helped me succeed," Steele said.
The women's 4×2 team also met expectations by qualifying for the state meet. Senior sprinter Maia Grant and senior sprinter Kira Lewis have contributed during practices by leading warm-ups and coaching  underclassmen on proper running techniques.
Head coach Richard Burton has always seen success here at Reagan, winning a number of rings, and making it to states, and even to nationals. Reagan's visitors can see Burton's success from the banners hanging in the gym and school record track display outside the football stadium.
Coach Burton will be looking forward to what this spring season will bring. Having all his sprinters return and falling short of winning a state championship. With a couple tweaks and twists, a ring for the men's 4×2 team is definitely within view for Burton this spring.
 "Running for Burton, you have to know what you want," Lewis said, "and you have to work hard to achieve your goals you set but also the goals that he sets because he wants what's best for you." 
Although only two teams qualified for the state meet this winter, the team felt the season was still lots of fun. There were days at the end of the week when the track team would play games like capture the flag or flag football. Even better was when after every indoor track meet was team dinner, by choice of the players, usually Culver's or Dairi-O.
"I loved going to Culver's, I would always get the biggest burger with my favorite milkshake," said sophomore sprinter Hezekiah Saunders. "Being around my teammates after a long meet was a sweet way to end the night."
 For indoor track meet days began when student-athletes normally get out of class at 3 p.m. and leave the school at 3:20 p.m.on the bus ride to JDL Fast Track. Meet events like the 55-meter dash, 4×2 relay, and the 4×4 relay always get the crowd going and create good memories. 
Outdoor track meets this spring will be similar, but they will be at high schools locally. With practices every day after school from 4-6 p.m. Burton looks to make a statement at the season's early meets.
Junior shot put thrower Spencer Winslow is a first-year track participant but found joy in the relationships and the comradery she found with her teammates. Being a shot put thrower requires a lot of hard work. Winslow's personal best was a throw of 26.7 feet. 
"My favorite part about track is building relationships with my teammates," said Winslow, "and being pushed to succeed not only in the classroom but also in my field events and in the weight room." 
Track is not for the faint of heart and running for coach Burton means being ready for intense training, different weather conditions, and various competition opportunities.
"In life you only have so many opportunities," Burton said. "The opportunities and chances that you do get, you must take advantage of them and strive to do and be your best."