Reagan faces transportation issues
The first few weeks back at Reagan have been full of late busses and long lines with seemingly no end in sight. A number of complications have caused the start of the school year at Reagan to be one with intense transportation issues.
"This is the seventh year I've had bus duty," said Assistant Principal Zachary Baker, who oversees bus transportation at Reagan, "in the seven years I've been assistant principal in between two schools, and this is the worst it's been."
One of the major issues Reagan has been facing is with the bus system. Students have to wait a long time for afternoon buses and in the morning students arrive late because of their bus.
"It was supposed to come around 8:15 but we would be outside waiting till 9:30," said sophomore Nina Minoza.
The bus being so late has affected student's academics. According to Minoza, the first week she would arrive late and miss a lot of material in her first period but was still expected to take quizzes.
Taking the bus in the afternoon is no better. Students wait around for a long time and are delayed in getting home.
"It gets home really late, like 5:45," said freshman Bence Burton.
Burton also said that he would work on homework while waiting for the bus, but the Wi-Fi outside the school where students wait for the bus is inconsistent.
According to Baker, these issues can be attributed to the fact that the district is 60 bus drivers short. COVID-19 also plays a detrimental role, because if a driver gets sick they must quarantine for 10 days which further lowers the number of available drivers.
This has caused a huge workload for Baker. He said that on the first two days back the last bus did not leave till after 6 p.m.
"In the afternoon it's mostly up to myself to talk with the drivers to figure out which divers have room to take extra routes," Baker said.
When it comes to bus issues, students can't do much to make things move faster. The majority of the time all they can do is sit and wait while the school tries to get them rides.
Baker said the one thing students can do is just pay attention while trying to leave school.
"Bus changes are harder in the afternoon, so they just have to make sure they're paying attention to what bus rolls in and what bus I announce is subbing on it," Baker said.
Busses are not the only issue, though. Car riders and student drivers have their share of complications. The process of getting into school has been a very long one and caused some difficulty with the students.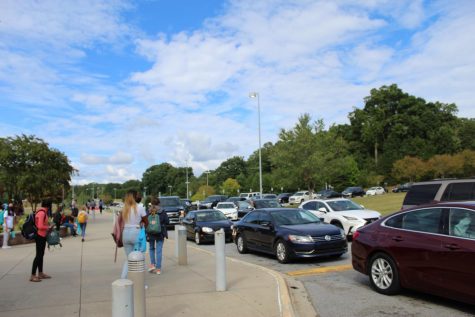 "It was kind of stressful just because of how backed up the line was, and it was really long," said freshman Sierra Bell, who is a car rider.
The process of getting out of the parking lot the first couple of weeks was even worse. Some students had places to be and couldn't afford to sit and wait to get home.
"Leaving the parking lot was stressful the first couple of weeks because I work after school, and I have to be home at a certain time to be able to make it to work on time," said senior Emilia Proano-Stevens.
Another factor of the student lot is new drivers. An environment as chaotic as the parking lot can easily cause stress for less experienced drivers if they do not understand how the parking lot works.
Junior Victoria Clinger is a new driver, who luckily has the hang of navigating Reagan.  "It's a little scary at times, luckily the system we have worked okay and I've found my own little system to stay safe," Clinger said.
Baker attributes these issues to the fact that the district also has a shortage of crossing guards. Luckily students can do a lot to make the process of arriving and leaving school easier.  Assistant Principal Maurice Jackson, who oversees the parking lots, gave some advice.
"In the morning I would suggest that they utilize the upper lot," Jackson said.  "Some people still think it's a Career Center lot, but it hasn't been a Career Center lot for six years."
Jackson also said students should put away their phones to keep the parking lots safe, and both Jackson and Baker recommended turning left on Transou Road instead of right into the parent pickup lines and heavy traffic.
Reagan will most likely continue to face issues with transportation, but some progress has already been made. According to Burton, who is a car rider in the morning, traffic has already improved from the first couple of weeks.
If students can do their part, whether it is remaining patient or leaving a little earlier to get to school on time, they will hopefully continue to see improvements.
View Comments(1)