My first fair
School, extracurriculars and homework generally fill up all of my time after school. I do try to use my time well when I have a break, so to get away from work, I went to the Carolina Classic Fair for the first time. The fair food, carnival games, and different sights- including the largest vegetable- lived up to my expectations. 
For many, the Carolina Classic Fair is a yearly tradition. The fair comes to Winston-Salem every fall, and it has been in the same location for the last 70 years. Being the second-largest in NC, many people are drawn to the event, yet I myself have never been to the Carolina Classic Fair, until now. 
Many people go to the fair with someone or a group of people that they know. Oftentimes events like this are meant to be shared and celebrated with as many people as possible. So to get the full experience of the fair, I brought along a friend, Reagan sophomore Jala Daye, who also had never been to the fair. 
The Carolina Classic Fair was worth the money. I would say that this fair was fun since it had so much to see and do. General admission pricing didn't include any tickets for rides or carnival games, which seemed unfair when I first arrived, since that's all I was expecting to do. However, when I realized how much there was to see and do, I understood why the carnival rides would be the added expense. Even then, admission was $10 for adults, and $5 for children, so it wasn't too steep. 
"The carnival game prices were too expensive," Daye said. "If I had known that they were expensive, I would've brought more money."
I was pleasantly surprised at the amount of art that was on display. Many different types of arts and crafts were entered into the fair's competitions. The spotlight on young artists within Winston-Salem Forsyth County Schools was neat as well. Seeing a few Reagan pieces made me feel proud of my school. I stood gawking around the whole hall looking at art all over. From photography, to quiltmaking, to baking, to building Legos, no one's idea of a hobby was left out. That was the interesting part: there were so many categories of art, and they were all beautiful in their own way. 
"I loved the art," Daye said. "It was cool that they included so many types of art too. I didn't think it'd be that interesting, but it was a nice way to pass the time."
Another attraction that the fair offered was the livestock and agricultural displays and contests. This was something that I was actually looking forward to exploring. Going to major fairs, usually they're centered around the carnival booths and rides available. However, the livestock competitions were a big draw, as was the giant vegetable contest. I was shocked and intrigued with these giant pumpkins and watermelons. It was incredible to see and be able to appreciate someone's hard work on just cultivating a vegetable. 
The vendors that were at the fair were something unexpected as well. With jewelry vendors, henna booths and caricature artists poised at the ready, there was something for everyone to buy. However, some of the vendors who were selling bags and hats seemed to have very similar merchandise, and at almost the same price. This made the products seem a bit cheap in quality, and therefore less appealing. It didn't seem unique anymore due to the fact that everyone had the same products. 
The rides themselves were standard. Classics like Rockstar, Zipper and Cliff Hanger were present. The ride wait times weren't ridiculously long which I was thankful for. I do think that the wristbands were well priced, but I didn't get a wristband this time around since I didn't think there would be that many rides. With 20 rides to choose from, and each ride costing between 6-12 tickets, I was mistaken. Getting individual tickets was pricey since I did end up going on more than a few rides.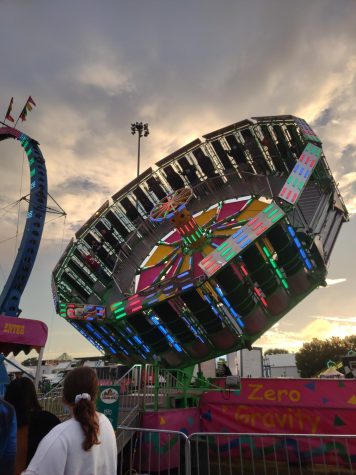 Going on the giant ferris wheel at night was something that many people recommended. Seeing the lights of the fair and the other rides against the dark and empty sky was magical. 
"I've never been on a ferris wheel before," Daye said. "It was something I was looking forward to since everyone talks about how pretty everything looks from so high up. The giant ferris wheel lived up to my expectations. It was crazy to see the city from up so high."
The Carolina Classic Fair is an event that I hope will become a yearly tradition within my family and friends. It was a fun way to spend a Friday night without spending as much money as you would at a theme park or a festival.
Leave a Comment