College Reveal Parties: Fuss or Fun?
Hang on for a minute...we're trying to find some more stories you might like.
A hush comes over the room. Excitement permeates the air as the host prepare to open the box for the grand reveal. They lift the lid and a flurry of colorful balloons fly out.
"It's………. CAROLINA!"
If you thought this storyline was going somewhere else, you are not alone. In the tradition of baby gender reveals, some students have decided to throw college reveal parties.
"This seems like such a fun thing to do if you have time," said senior Claire Aft. "I personally don't have enough time, but if you want to keep it a secret and do a dramatic reveal, that could be such a great moment."
These are no small shindigs. When guests enter the party, they can choose a pin to wear that represents their guess of where the student will attend. Once they have chosen, they can enjoy a plethora of celebratory events leading up to the grand reveal.
Refreshments could include punch dyed different school colors, cookies decorated with different logos, and various other snacks on school-colored plates. As for entertainment, attendees could participate in activities such as "pin the senior's head on the mascot" and taking pictures in a photo booth to send with the senior, wherever he or she may choose to go.
Finally, with the time painstakingly chosen to create the most excitement, the senior can reveal the final decision! This might seem like the simplest and most straightforward aspect of the celebration, but there are multiple ways to go about announcing the choice.
It would be much easier to delve into the ways one could not reveal their decision. However, a few examples of fun announcements include filling a box with balloons in the choice school's colors, having party-goers break a piñata open to reveal colored confetti, and even cutting a cake with the school's colors painted incorporated into the icing. Students can easily create their own twist of a previously invented reveal method, or invent a new one that is entirely their own.
While these parties seem entertaining in theory, many students find them ridiculous and over-the-top.
"I feel like people already know where you're going to go," said senior Lauren Hale. "Everyone has known I wanted to go to NC State since fourth grade."
In addition to the complete lack of necessity to have one of these get-togethers when a simple card would do the trick, many seniors are focused on simply making it to the end of the year. The stress of exams looms and, combined with the lack of motivation, seems daunting and impossible to navigate.
"Nobody cares enough about what college you're going to to make that big of a deal out of it," said senior Monica Burciu.
Adding another layer to the onion of stress that is senior year (yes, that is why seniors cry) by throwing in a party they have to organize and host is not something many students want in the mix. Simplicity is key as we prepare to move on into the next chapter of our lives.
Whether you think a party would be a fun distraction from the stressors of senior year or that it would increase the stress to another level is up to you. However, many seniors prefer to keep it simple and go with the flow as senior year comes to a close.
About the Writer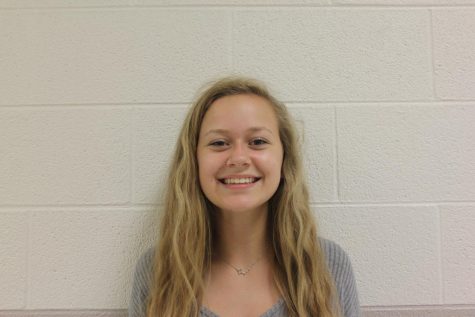 Hannah Boone, Editor-in-Chief (Online)
Hey y'all! My name is Hannah Boone. I'm a senior this year. I am online editor-in-chief. I love food, music, my cactus, and I love dying a strip of...