New Show 'A.P. Bio' is nothing like the class

Advertisement
If you tuned into NBC's "A.P. Bio" to learn some new science terms about the body or genetics, sorry to disappoint. The newly aired show talked nothing of biology and everything about the problems of a middle-aged man.
The 30-minute television show revolves around Jack Griffin (Glenn Howerton), the newest teacher to the public school Whitlock High. Griffin is a Harvard philosophy scholar who loses his dream job as head of Stanford Philosophy to his nemesis, Miles Leonard (Tom Bennett) and remorsefully returns to Ohio to find himself teaching Advanced Placement Biology to high school students.
However, Griffin makes it perfectly clear the first day of the semester he will not be teaching any biology. Instead, he decides to use his room full of honor roll students, including Devin (Jacob McCarthy) and Sarika (Aparna Brielle), to humiliate and sabotage Leonard, all under the nose of Whitlock's principal Ralph Durbin (Patton Oswalt)
Principal Durbin struggles to take charge and handle the new addition to the school since he is a bit of a pushover. The first encounter with Durbin is when he calls Griffin outside his classroom to reinforce the rules only to be tricked into "bro-hugging" Griffin.
While the comedy was anticipated to be a hit with high ratings, the reality was set at a lower standard. The show was fourth in ratings behind "Scandal," "Life in Pieces" and "The Four."
The first episode mostly focused on Jack's failure to fit back into his old life in Toledo. One part showed him possibly having a positive outlook in the storyline when he gets a "date" with his high school ex-girlfriend but is rejected because she already has a boyfriend. While the show is intended to be humorous, it often went too overboard with inappropriate language and the mockery of school-enough to the point where it's not funny anymore.
Some of the overboard moments include the first scene where Jack crashes his car into the school's sign in the front and then later in the episode tells the students about his night where his girlfriend turned him down. Therefore, he urinated on the local hospital building, where she works. He goes on saying, "The police suggested I stop, then I suggested the police pleasure me. He did not; instead the police hurt my arm and took me to jail."
Also, where other television shows essentially about school life develop around the students as the main characters, this show is specifically about the Griffin and all the endeavors of his love and home life, philosophy career, and his undesired teaching job.
Most of the things the characters say or do would not happen in an actual school scenario. For example, on the second day of school all of Griffin's students surprise rap to him about his poor AP Biology teaching skills when one student comes out of the closet with a smoke machine and saxophone for the rap. This does not happen at your average school.
Jack Griffin just can't get a break when it comes to his life right now, which hopefully viewers can watch when they feel they're having a rough day, laugh, and feel better. It will be interesting to see what will the future will hold for him and his class.
The premiere of the show will take place on March 1, 2018, with new episodes every Thursday at 9:30 p.m.
To sum it up, "A.P. Bio" is a humorous new show with some upcoming chaotic adventures, explicit topics, and little schoolwork. If you enjoy watching someone mimic student lives in an unexpected way, this is the show for you.
About the Writer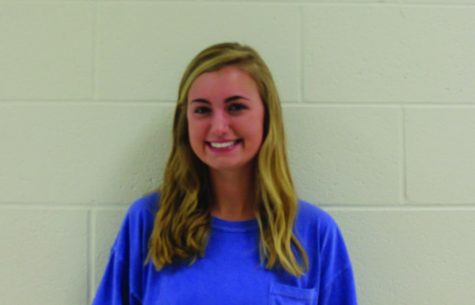 Alicia Townsend, Photo Editor
Hey, My name is Alicia Townsend and I'm a senior. This is my second year on the Rooster staff. I'm involved in CARE club, president of French club,...