Print editor-in-chief prepares for big changes as graduation nears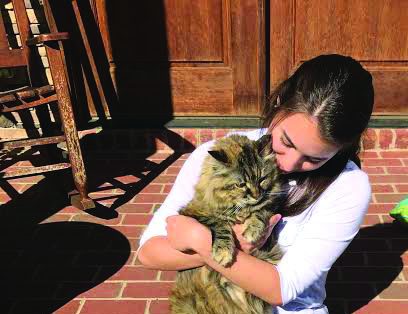 Advertisement
Hang on for a minute...we're trying to find some more stories you might like.
Last year when I was a junior, all of my friends in the grade above me warned me that senior year flies by, and that I shouldn't take my time in high school for granted. While this may  sound like a total cliche, I found it to be mostly true. Although first semester dragged by and basically just felt like an extension of junior year, second semester has been a blur of "lasts."
Like most seniors, I am torn between wanting to be independent and in college as soon as possible, and wanting time to slow down so I don't have to say goodbye to the last four years of my life. In other words, half of me feels like that scene at the beginning of "High School Musical 2" when they're all eagerly watching the clock tick towards summer, and the other half feels like holding on to the things I love most (mainly my cat and my bed) and never letting go.
I have changed a lot over the past four years, and I can truly say that my experiences in high school have made me a better person and one who is more prepared for the "real world." High school taught me more than just chemistry or English; I learned how to handle many responsibilities at the same time. High school can sometimes feel like a juggling act between schoolwork, actual work, sports, friends and family. It can often be hard to find time to yourself. Learning how to deal with all this pressure is an invaluable skill.
I was lucky in high school to have an automatic group of friends from the start. Trying out for the swim team freshman year, I had no idea that this team would turn into my family for the next four years. My "lil guppies" will forever be some of the most supportive, caring and tough people I have ever met. Getting to win four conference championships in a row with them is something I will never forget.
Another shaping factor during my high school career was being a part of the newspaper staff. Newspaper increased my confidence in myself both as a writer and in general. There is a certain sense of pride that comes from seeing all your hard work when those newspapers arrive from the printer. Starting an online publication this year was a valuable new experience, and everyone reading this should go online immediately to reaganrooster.com if you haven't already to see all of the wonderful articles that have been published there over the course of this year. Who knows, you may even learn something new about Ronald W. Reagan High School!
Over the last four years, I have met friends and made memories that I know will last a lifetime. High school forces you to meet new people and explore different points of view, and I hope that I will find this same thing to be true in college. In the fall, I will be attending Northeastern University. When I first tell people this, their first reaction is always "Where's that?" (Boston, Massachusetts), and their second reaction is "You know, it gets really cold up there" (yes, I know.) Although the thought of moving 15 hours away to a relatively unknown city is slightly terrifying, I am more than excited to start this new chapter of my life.
With graduation just around the corner, my time at Reagan is almost over. Graduation may be the last time I see a lot of people that I have regularly seen around the halls for the last four years. While I'm not particularly torn up about this, it's the people I will continue to see over the summer that will be harder to leave. But don't worry, I will be back to visit my newspaper staff (preferably on a NOM day), my favorite teachers and all the people in my life that have made these past four years so great. I am excited for my younger sister to attend Reagan next year as a freshman, because Reagan has treated me well, and I know that she will enjoy her time here as much as I did.