Biology teacher Helen Wrobel chosen as 2021-2022 Teacher of the Year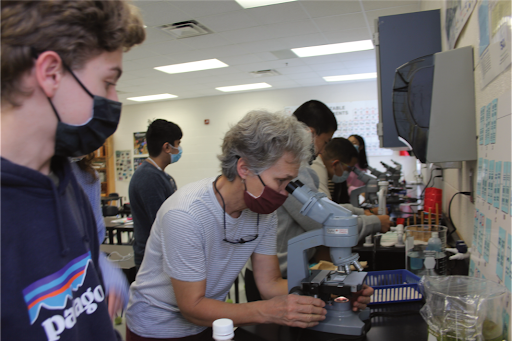 Accompanying the conclusion of each calendar year is the reveal of the brand new Teacher Of The Year. On Dec. 20, 2021, Reagan announced the 2021-2022 Teacher Of The Year to be biology teacher Helen Wrobel.
"It was an honor," Wrobel said.
Wrobel has been teaching a total of 25 years, the first nine at Reynolds High School and the other 16 years at Reagan after a 10-year break in between. Thus, Wrobel has been a part of Reagan almost since its inception.
Even after 25 years of teaching, Wrobel still loves the content she teaches and the students she works with. She believes that what she teaches her students is important for them to know, and she also speaks very fondly about her fellow teachers and coworkers.
"I've got really great coworkers here at Reagan," Wrobel said. "A pretty outstanding faculty, I think."
One of Wrobel's coworkers, AP Earth and Environmental teacher Stephanie Pearson, speaks very highly of Wrobel, her classes and her professionalism.
"Mrs. Wrobel is one of the most professional teachers I have ever worked with," Pearson said. "She takes pride in her work and it shows. Her classes are engaging, and students get excited about the hands-on experiences provided in her class. As a colleague, she is always willing to lend a hand and give sage advice to those who seek her opinion."
It is in fact the faculty that votes and determines who the Teacher Of The Year will be. When Wrobel received the news that she had been chosen as this year's Teacher Of The Year, she was very surprised.
"I was pretty astonished really," Wrobel said. "I knew I was a finalist, but I really didn't expect to get it. I didn't really expect to be recognized like that. It was great."
Biology, along with classes such as Math 3 and English II, have state mandated end-of- course tests. How well students score on these tests directly reflects on Reagan as a whole, making exam time a busy and stressful time for teachers such as Wrobel. 
"It feels like there's a fair amount of pressure there," Wrobel said.
Wrobel helps her students succeed in a variety of ways, and not just for the big EOC tests, of which Biology is one as well as Math 3 and English II.
"I try to keep up with how each of my students are doing," Wrobel said. "If I see they're struggling, I'll ask them to come into tutoring. I try to be encouraging as much as I can when I see that they are struggling."
The work done on both the student's side and the teacher's side can provide some pretty great results. Wrobel loves watching her students excel in her class, but what she likes the most is when she talks to Reagan postgraduate students she taught in the past to discover that they are majoring in biology especially, or even in any science related field.
"I love it when they like the subject area," Wrobel said. "Not that it all had to do with me, but maybe I contributed some to that."
Even though she's taught at only two schools, Wrobel likes the supportive community of Reagan as well as the willingness from the teachers to lend a hand and help each other out.
"Mrs. Wrobel was one of my favorite teachers freshman year," said sophomore Ollie Alexander. "She made the transition to in-person school a lot easier. I loved her."