Covid-19: one year later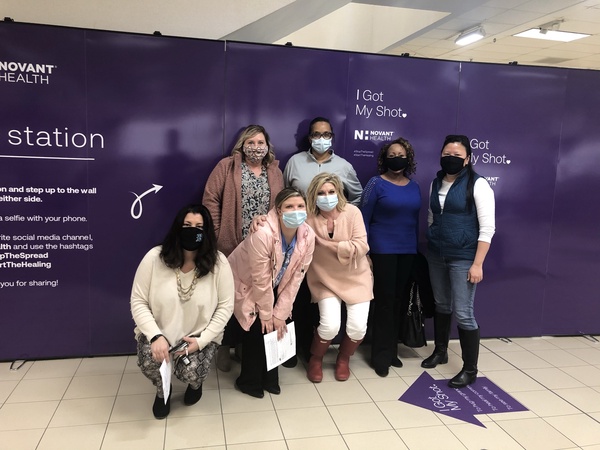 It has been just over a year since the initial shutdown of the world because of the Covid-19 pandemic. A lot has happened since then and though we are not done with this deadly virus, it seems that things may finally be improving. 
The first cases in the United States appeared in January 2020 and by mid-March lockdowns around the country were in place. 
For many schools, what began as a two week break turned into 12 months of online learning. The last day of in-person classes for Winston-Salem Forsyth County Schools (WSFCS) students last year was Fri. March 13. 
One year later, there are finally students from all grade levels back in the classroom in WSFCS. 
The coronavirus and the government's response quickly became a subject that the country was incredibly divided over. 
Former President Donald Trump was both criticized and praised for his response to the crisis because of the different priorities of the American people. 
Covid-19 was an instrumental campaign topic during the 2020 presidential election. Specific topics like rules concerning public health safety measures and vaccine distribution plans were discussed thoroughly. 
Eventually, with the promise of stricter safety measures, President Joe Biden was victorious. Many of his executive orders from his first day as president were measures taken against the virus. 
During this year in the United States alone over 500,000 people have died from Covid-19 with a high of over 4,000 deaths in one day. 
From the emergence of the virus, scientists have been working hard to create vaccines that can prevent the spread and lessen the effects if the virus is contracted.
These statistics are astounding, but recent trends show both the number of new cases and deaths dropping significantly since mid to late January 2021 when the first vaccines were distributed. 
Coronavirus vaccines are constantly being developed and improved upon, but in December 2020 the United States Food and Drug Administration (FDA) approved two vaccines for emergency use. 
These first two vaccines were from Pfiezer and Moderna both have efficacy rates up to 95%. The FDA would have approved any vaccine with an efficacy rate more than 60%. 
Most recently, in February 2021 the FDA approved a third U.S. vaccine with an efficacy of 85% made by the company Johnson and Johnson. 
All three vaccines are currently being distributed across the country. The majority of vaccine distribution decisions are up to state governments while the vaccines themselves are provided to each state by the Centers for Disease Control and Prevention (CDC). 
Some states like New Mexico, North Dakota and Wisconsin have been incredibly efficient with distribution (based on the percentage of vaccines administered from the vaccines that were provided). 
While other states like Kansas, Georgia and Alabama have low distribution percentages in the 60s. This difference in distribution across the country is causing issues of people crossing state lines to get vaccinated and debates on if and how the federal government should get involved.
As a country, slowly but surely we are moving through the different vaccination stages. About 16% of the U.S. population have received at least the first dose of a vaccine as of early March, 
While experts say it will still be quite some time before life gets back to complete normal, as long as people continue to be cautious, even with the vaccine, case numbers should continue to decrease.