The best way to end the Weeknd
     This year's Super Bowl LV performer was Abel Tesfaye, a.k.a the Weeknd. He performed for about 13 minutes, and let's just say it was interesting. There were many opinions surrounding his performance.
     The background of the performance was based off of his newest album, "After Hours." 
     The Weeknd is known for his incredible voice and creative performances. This is why he put $7 million of his own money into this year's halftime show. He wanted to make sure that his creativeness would be showcased to the public.
     "We've been really focusing on dialing in on the fans at home and making performances a cinematic experience, and we want to do that with the Super Bowl," he told Billboard.
     The pandemic has been a hurdle for many performers to conquer, especially during the Super Bowl this year. Usually during the half-time performance, a stage is rolled out and thousands of people are in the crowd watching and cheering. But not this year.
     This year the Weeknd and his team had to figure out how to create the perfect performance that also followed COVID-19 rules and regulations. 
     All performers were tested before performing and for the show itself, the Weeknd incorporated the same experience for viewers, just 6 feet apart. 
     Dancers in the show wore face coverings disguised as bandages that went along with the Weeknd's albums theme. Luckily, it all worked out in his favor.
      The Weeknd opened the performance with his hit single "Starboy" then six more of his hits followed. Those were "The Hills," "Can't Feel My Face," "I Feel It Coming," "Save Your Tears,"  "Earned It," "House of Balloons/Glass Table Girls," "Blinding Lights."
     While watching the performance viewers were anticipating a guest appearance along with the Weeknd.
     In the past, Super Bowl halftime shows have had a guest appearance from other artists along with the one main artist showcased. But this year was different. The Weeknd did not want to stray away from his vision. 
     Overall, this year's performance was another one for the books and the Weeknd did an amazing job at morphing what would be a larger than life show into a COVID safe show.
About the Writer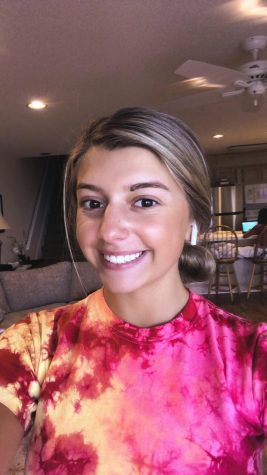 Emma Rose Olsen, A&E and Features Editor
Hey, my name is Emma Rose Olsen and I am a senior this year. This is my third year being a part of the Rooster staff and I am A&E and Features Editor....