Covid Can't Catch The Cross Country Team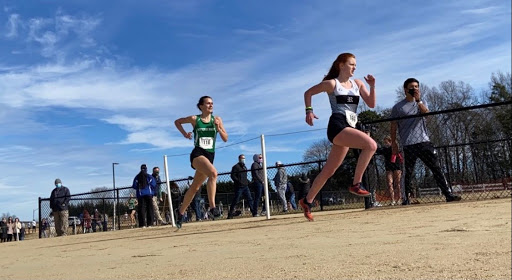 Through these difficult and uncertain times, lots of things have changed… but not the cross country team's determination and hard work. 
"One of our goals was to use the races that we have because with Covid the season is really unpredictable," said senior Sammy Troup, who has committed and signed to run D1 track and cross country for Liberty University. "We wanted to put everything in the course every chance we got and not take any of them for granted." 
As a result of COVID-19, things looked a little different for the cross country team. The season was cut short all together, races had to be split into much smaller heats, the number of spectators allowed was limited and all invite meets were cancelled.
In the past, the team trained together over the summer, and began racing in August and ended in November. This year, runners trained individually all summer, began racing in December and ended in late January. 
"I've never been so proud of my teammates for their strength through uncertain times; we have accomplished more this year not knowing what the next weeks hold than ever before," said Gwen Parks. Parks is a senior at Reagan who has committed to run at Cornell University.
This season, both the girls and boys teams qualified for states, which was a huge accomplishment. At states, the girls team placed 3rd and the boys team placed 9th. 
The girls team also won Conference Championships and Regionals, which has not happened in a long time. Unfortunately, the boys team did not win any big titles, but they did place 2nd at Conference Championships and 3rd at Regionals.
Another big accomplishment for the team was beating West Forsyth. Not just once, but at every race they ran against them this season. 
"My teammates are my best friends and have meant the world to me during this crazy senior year," Parks said.