Cam Newton released by Carolina Panthers
On Tuesday, March 24 the Carolina Panthers released quarterback Cam Newton after nine years on the team. Just the next day, they signed former New Orleans Saints backup quarterback Teddy Bridgewater.
A week before this announcement the Panthers gave Newton permission to seek a new trade. There were not any trade deals offered before they decided to release him. 
Newton only got to play in two games before his foot injury benched him for the rest of the 2019 season. In December he received surgery and has since been in recovery, however he is ready to start playing again in the upcoming 2020 season. 
He has posted many pictures and videos of his training on his Instagram that are captioned with things like "When you are a warrior in battle…you never count the days battled; you just get up everyday and fight!!" and "I'm free and hungry. No pity party. Just work."
With so much time off of the field it may be hard for Newton to find a new team, especially when his performance for the two games he did play this year was not great. The Panthers lost both games. 
His chances are also being affected by the COVID-19 outbreak that prevents him from working out and visiting with other teams. 
"Right now, he's worth nothing until such time as people can work him out and give him a physical — their own doctors give him a physical and then work him out," Pro Football Hall of Fame executive Bill Polian told ESPN according to their website. "It's unfortunate. He's got to prove he's healthy for a number of reasons, and right now he can't do that, for a number of reasons."
Despite the Panthers releasing him, the team and everyone involved in the organization has shared nothing but positive messages for Newton. Many have thanked him for everything he did for the team over the last nine years. 
"Cam has meant a lot to this organization and the Carolinas," general manager Marty Hurney said according to the Panthers official website. "Everyone saw his performances on the field. I had the privilege of seeing how hard he worked off the field, and his commitment to this team when no one was watching. He's the ultimate competitor and it physically hurts him to lose. He willed this team to victory on many occasions and will always be considered one of the greatest players in the history of this franchise. His contributions to this team, this community and the game of football will leave a lasting impact on our organization."
While he will be missed by many, this decision is saving the Panthers a large amount of money. Newton was supposed to count $21.1 million against the 2020 salary cap. By releasing him, they save $19.1 million in cap space with only $2 million in dead money. 
The Panthers signed Bridgewater to a three-year $63 million deal.
About the Writer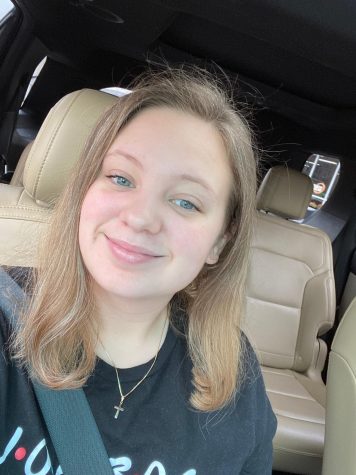 Madison Hepler, News Editor
Hi everyone! My name is Madison Hepler. I am a senior and the News Editor this year. I am President of the Drama Club, so I love musicals and theatre things....