Are iPhone emergency alerts really helpful?
The Wireless Emergency Alerts system (WEA) is used to warn the public about dangerous weather, missing children, and other critical situations. These alerts come through compatible iPhones and other mobile devices. The recurring question is, are these alerts actually useful?
The WEA system turns on authorized government authorities to send alerts about public safety emergencies to mobile devices in the affected area. AMBER Alerts are included in the WEA system, designed to solicit public information when searching for a missing child.
AMBER stands for America's Missing: Broadcast Emergency Response. The acronym also relates to Amber Hagerman, a child kidnapped in Texas back in 1996.
Some US states also alert citizens with Silver Alerts. These alerts are for missing adults, specifically senior citizens with Alzheimer's, dementia, or other mental disabilities.
The WEA alerts are not always well-targeted or helpful. Many people complain about being woken up in the middle of the night to look out for a missing Honda Accord in their area that could potentially contain a missing child. 
"When I see an alert pop-up on my phone, I typically don't even read the information," said senior Aidan Baker. "I just swipe the information away."
These alerts break through the "Do Not Disturb" system that is incorporated in all iPhones and other mobile devices. There is no way of turning the alerts off in settings.
On a more concerning side, these alerts can be dangerous to the ears if you are wearing earbuds, or driving in the car. The loud sound and pitch of the alert can be irritating to people with sensitive hearing.
In addition, AMBER Alerts are thought to be helpful among the public, but they are not 100% effective. The AMBER Alert cases do not typically involve life-threatening abductors.
National Incidence Studies of Missing, Abducted, Runaway and Throwaway Children show that most alerts are about family custodial disputes over the children. Parents were the perpetrators in more than 90 percent of kidnappings and abductions.
Mothers and female family members were responsible for the majority – 60 percent. However, fathers and male relatives were responsible for 64 percent of all kidnappings.
On the morning of January 13, 2018, a ballistic missile alert was issued through the Emergency Alert System and over television, radio, and cellphones in Hawaii. 
The alert stated that there was an incoming ballistic missile threat to the state. It advised residents to seek shelter, and concluded: "This is not a drill". However, no outdoor warning sirens were sounded by the state.
But, this was indeed a drill. Later that morning state officials blamed a miscommunication during a drill at the Hawaii Emergency Management Agency for the message. Governor David Ige publicly apologized for the erroneous alert.
While the Hawaii alert did cause panic in the state, some may say their lives have been saved by iPhone alerts.
On March 3 this year a tornado hit in Nashville, Tennessee, which led to a total of 24 deaths. Citizens across the Nashville area were awakened by iPhone alerts warning of the tornado danger early Tuesday morning. 
Tennessee resident Billy Dyer, believes that if not for the tornado alert he received he would not be alive today. 
"If the cell phones didn't have the emergency call, it wouldn't have been good," Dyers said. 
Another positive story took place in  East Windsor, Connecticut when a tornado warning from the National Weather Service called for a WEA alert to be sent out which saved as many as 34 lives. 
Inside the Sports World Complex soccer dome there were five adults and 29 children. The manager of the complex received the WEA on her iPhone. Immediately she evacuated everyone to a neighboring building. Just shortly after the alert, a tornado hit the dome, sending it flying across the interstate. All thanks to the warning issued by the National Weather Service Forecast Office, the children and adults were safe. 
So the question if iPhone alerts are really helpful still stands. While they might be annoying to listen to, in extreme cases they could easily save someone's life.
About the Writer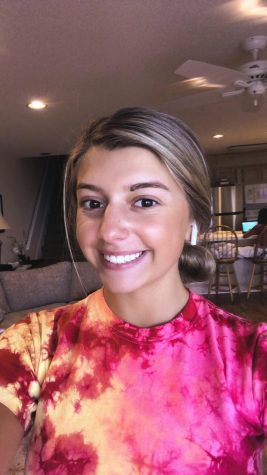 Emma Rose Olsen, A&E and Features Editor
Hey, my name is Emma Rose Olsen and I am a senior this year. This is my third year being a part of the Rooster staff and I am A&E and Features Editor....