Hall of Fame welcomes four new members
Beginning in 2015, the Reagan Hall of Fame Banquet has been a yearly staple to the school. It is a special way to recognize those who have contributed greatly to the success of Reagan's academic, artistic and athletic programs, and have shown exemplary leadership, character, achievement and service. 
This honor can be bestowed on Reagan alumni, faculty or volunteers. This year's inductees were Victoria Allred, George Folger, Frank Martin and Fran Seehausen. They were inducted on Oct. 11. 
The banquet is a way for the inductees to invite their friends and family to have a nice dinner served by student members of FCCLA, advised by Michelle Derouin, and be honored by the school and other hall of fame members. 
"I hope this ceremony tonight for our inductees and their families touches your heart," Principal Brad Royal said. "I hope that you have comfort knowing that we will recognize you in a small way but one that lasts for a long time.  You will forever be a part of our raider family."
Victoria Allred is a former student athlete who graduated from Reagan in 2014 and from East Carolina University in 2018. At Reagan she was involved in many extra curriculars like student council, National and Science National Honors Societies and Spirit Club. However, her most notable activity is her golf career.
She won many championships and was awarded the title of Player of the Year in 2012 and 2013 and ranked No. 1 of all senior golfers in the state. After her golf career was cut short at East Carolina University because of injuries, she experienced a lack of rights and protections as a student athlete that she decided to fight against. She and her family lobbied for a North Carolina State Bill that provides Fair Treatment of College Athletes that became law in March 2019.
"Through my experiences at Reagan, I was able to stand up for myself and other student athletes and lobby for this bill," Allred said. 
Every inductee is nominated by a friend, coworker or family member who feels they should be in the Hall of Fame. Once nominated, they are reviewed by a selection committee who decides who gets to be inducted. Up to five people can be inducted per year. 
This year's committee consisted of Amber Bryant, Tammy Darden, Suzanne Hanna, Kurt Lentz, Diane McMahon, Brad Royal and Sarah Smith. They began reviewing nominations in April. 
George Folger is the former head coach of Reagan's women's volleyball team, leading them to earn conference champion honors eight times. He was named Conference Volleyball Coach of the Year nine times. He also assistant coached the women's swim and dive team and head coached the men's golf team. 
Folger is the founder of the annual Spike Leukemia volleyball game that has continued as an important yearly fundraiser for families who have children battling Leukemia. In 2014 Reagan became the first school in the county to offer sand volleyball when Folger started the team.
"He always puts the needs and feelings of his athletes above his own," Coach Ryan Michel said. "One of the most valuable lessons that I've learned from him is how to balance the role of coach and father."
Frank Martin is a former principal of Reagan High School. Beginning in 2010, Martin improved upon Reagan's facilities and most importantly the sense of community that is still prevalent today. He created the tradition of the Homecoming Parade, and in 2015 established the Hall of Fame that he is now a member of. 
He cared deeply about Reagan and it showed through his support of staff, students, athletes and families. He especially challenged the booster club to find new ways of fundraising which improved many athletic facilities.
Fran Seehausen was an active member of the PTSA from 2005-2013, vice president in 2008 and president for the following two years. She began the College Search Program which has assisted over 100 students per year in the process of researching colleges. 
Seehausen was awarded volunteer of the year by Winston-Salem/Forsyth County Schools at Brunson Elementary, Hanes Middle and Reagan High School. She serves as a part of the selection committee at Reagan for the Nicholas Doub Memorial Scholarship. 
These new inductees and the other 15 members of the Reagan Hall of Fame can be found on plaques located on the wall outside the auditorium in the main hallway.
About the Contributor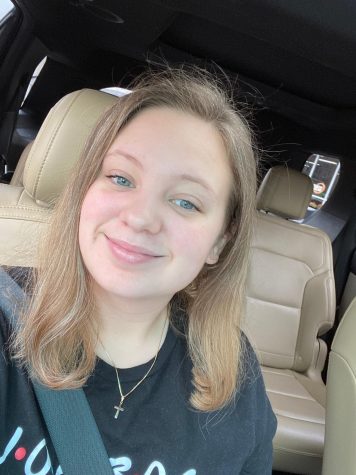 Madison Hepler, News Editor
Hi everyone! My name is Madison Hepler. I am a senior and the News Editor this year. I am President of the Drama Club, so I love musicals and theatre things....