'You' provides a creepy storyline for the twisted romantic
Psychological thrillers seem to be all the rage right now and diffusing into multiple television series.  The Lifetime show "You", based on Caroline Kepne novel You, is no exception, and once it hit Netflix, its popularity went through the roof.
The story focuses on New York City inhabitant Joe Golderg's (Penn Badgley) obsessive love for student and aspiring writer Guinevere Beck (Elizabeth Lail).  The two's seemingly innocent meeting in a book store brings out Goldberg's inner-stalker as he attempts to do everything in his power to make Beck love him.
Goldberg's "love" overrides his moral compass and brings out the psycho.  He does not just stop at stalking; he turns to threats, violence, and murder of those whom he deems interfere with his and Beck's "love".  And Beck has no idea.
Looking at the series as a whole, there is no doubt it is entertaining.  The show keeps the viewer intrigued. Who is going to die next? How far will Goldberg go?  Will Beck ever find out and if she does, will she care? These questions are popular among viewers while they watch Goldberg stare at Beck from behind bushes.
The whole obsession with serial killers, stalkers and other twisted individuals is quite honestly bizarre, but Netflix knew its audience and delivered in fine fashion.  Tweets have been shared about rooting for Goldberg and Beck. "They're in love!" they say. No. This is just wrong and weird. "Stranger Things" actress Millie Bobby Brown defended Goldberg saying "he's not creepy, he's in love with her."
"You" has somehow convinced the technological generation that stalking and murdering is okay as long as it's for "love".  I don't know about anyone else, but if this happened to me I would be running for the hills.
"You" was disturbing because viewers found it challenging to not feel sympathy for the psycho.  Throughout all 11 episodes, most of the voice overs consisted of Goldberg's inner thoughts and feelings.  You catch yourself hoping Beck wouldn't discover all the bodies he's killed and the two can live happily ever after.  I caught myself feeling this way a few times.
I am quickly snapped back to reality when I realize what a major sociopath Goldberg is.  This behavior is not normal, and it is not normal to wish that he rides off into the sunset with the girl he stalks.  This show is not normal, regardless of its entertainment factor, and much to my dismay, a second season is rumored to be in the works.
About the Contributor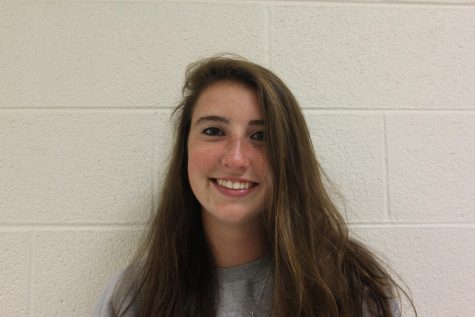 Sarah Krull, Art and Entertainment Editor
Hey! My name is Sarah Krull and I am a junior.  This is my second year on the Rooster Staff.  I am a part of Key Club, CARE Club, Crosby Scholars, RAP...