Patriots can no longer count them on one hand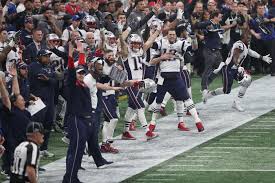 The Super Bowl is the most tuned in sporting event every year. Millions and millions of people sit down to watch this game between the best two teams in the National Football League. Even more people tuned into Super Bowl LIII to witness history. The Patriots quarterback Tom Brady was playing for his ninth Super Bowl which would make him the only player in NFL history to have six super bowl wins.
Entering this game, Brady was having a great season with a 65.8% completion percentage, 4,355 yards, and 29 touchdowns with only 11 interceptions. Brady and the Patriots have been in the American Football Conference Championship for the last eight seasons and again this year it wasn't any different. The Patriots beat the Chiefs 37-31 to go to their fourth Super Bowl in five seasons looking to tie the Steelers for the most Super Bowl wins with six.
Unlike the Patriots, the Los Angeles Rams are a less seasoned, young team with coach Sean McVay as the youngest head coach in Super Bowl history at age 33. Yes, that means that Coach McVay is eight years younger than 41 year old Patriots quarterback Brady. Not only is coach McVay young but, L.A. Rams quarterback Jared Goff has only been in the league for three seasons.
Goff's stats this season were 64.9% completion percentage, 4,688 yards, 32 touchdowns, and 12 interceptions. These stats are just as good as Brady's stats who has been in the league for 19 years.
Both quarterbacks in Super Bowl LIII struggled greatly; neither threw for a touchdown and both threw an interception. Brady threw his interception on the first drive of the game, and Goff threw his at the worst possible moment with only five minutes left needing a touchdown from inside the 20 yard line. Some game watchers could say Goff literally threw the game away.
At the end of the four quarters the Patriots emerged victorious 13-3. The Patriots now have six super bowl wins and are one of the most winning team in the league.