Drama club's "A Christmas Carol" does not disappoint
Hang on for a minute...we're trying to find some more stories you might like.
This year the Reagan Drama Club put on A Christmas Carol. The Drama Club is run by theater teacher Jenn Janus.
The show was originally on Dec. 13, 14, and 15. Due to a week off from snow, the show was moved to Dec. 19 and 20. With the delay, the cast still put on their best show.
Junior Brock Chambers played Scrooge in the play. This was his first performance in a Reagan production. There were things he didn't know, but he learned it along the way.
"The hardest part of the show was realizing that it's not all just memorizing lines, blocking, props, and all other things had to be mastered," Chambers said.
On the outside putting on a performance might look easy, but when you're the one having to remember all this things it's a lot harder than people think. There are lots of setbacks and always things to fix.
"There were definitely some things that could have gone better, but we cut almost an hour off of our run time from first dress rehearsal, so things ran smoothly," Junior Jessie Hinson said.
In the beginning, things are going to be hard especially when you have students who have never been in a play or when you have children play parts.
Some of the teachers allowed their kids to play roles in this years play. None of them had a very big role or a ton of lines, but for their age, it had to of been hard and none of them messed up on lines. These children had a hard job at hand. They had to memorize lines and blocking just like everyone else and in the end the did really good.
"The younger kids did really well and they had fewer practices to learn everything," said Hinson. "They memorized their lines well and listened to direction so that everything ran smoothly."
This show also incorporated carolers who sang during set changes. It gave the audience something to pay attention to during some of the longer changes.
Junior Marquell Mack had two solos during these set changes. He also acted in the play. This was Mack's third performance here at Reagan and he put on a good show.
"I really enjoyed doing the play this year," said Mack. "I got to meet new people and branch away from just doing the musicals."
The play clearly took a lot of time to put together with all the props and sets that they needed for it. Some of the actors expressed that in the beginning it was a bumpy start, but the end product didn't disappoint.
"In the beginning, everyone was stressed, but we quickly shook it off," senior Kiyah Caesar said.
After "You Can't Beat the House" and "The Little Mermaid" from last year and now "A Christmas Carol," the Spring musical "The Sound of Music" should be another great one. Auditions will be Jan. 8 through 11.
About the Writer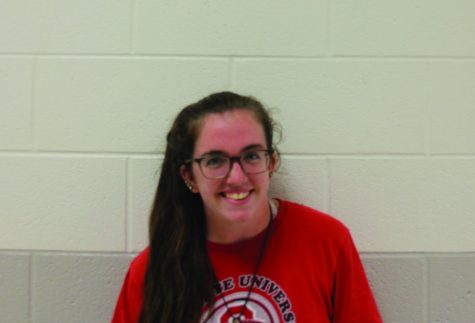 Erin Trowbridge, Layout Editor
My name is Erin Trowbridge and I am a rising junior this year. This is my second year on The Rooster staff. I am currently apart of the school color guard...