Black Friday shopping
Hang on for a minute...we're trying to find some more stories you might like.
The sound of the early-morning alarm is usually one that everyone dreads, but on this particular morning, the sound is music to my ears.
It's the day after Thanksgiving, better known as the craziest, most chaotic holiday of the year- Black Friday.
Black Friday tends to have a bad reputation across the nation. The holiday is known for the doorbuster deals and chaotic shoppers. To most Black Friday shoppers, this day includes late night and early morning showdowns in your favorite stores for the best deals.
In a recent study conducted by the Washington Post, 70 percent of Americans planned on Black Friday shopping this year. That is a staggering statistic based on the seemingly low approval of the holiday.
Despite the criticisms and somewhat hassles of Black Friday shopping, my family finds heartwarming fun in our own traditions around this time of year.
Every year, my mom, my sister and I wake up reasonably early, around 5 a.m. to make a few stops just before breakfast. It has been a tradition to first stop by a few, less popular stores.
Next, we eat breakfast at the restaurant that in my opinion, perfectly encapsulates the feeling of Christmas, Cracker Barrel. After a filling breakfast, we gather all our coupons or magazines and head to the most anarchic shopping centers in Winston-Salem.
We pulled into the packed Hanes Mall around 7 a.m. this year. The parking lot around this time was still full, but nothing compared to the vastness of the sea of vehicles in the earlier hours of the sales.
In recent years, stores such as Target, Belk and Walmart opened their doors earlier on Thanksgiving Day to elongate the hours of their deals.
Although the stores had been open for hours, there were still many deals and massive amounts of goods waiting to be bought.
Once inside, we struggled in and out of crowded retail stores, with our ginormous bags in hand.  Basically every second, we were bumping into someone else, or they were bumping into us.
After hours of thrifting and waiting in lines, we decided to call it a day around noon. We were all drained and ready to catch up on the sleep we missed the night before.
Needless to say, if you are not fond of waiting in checkout lines for hours with hundreds of shoppers just as irritable as you, Black Friday shopping may not be the way to spend your Thanksgiving holiday break. Although there are negatives of shopping on Black Friday, there ways to make the rambunctious holiday more enjoyable.
About the Writer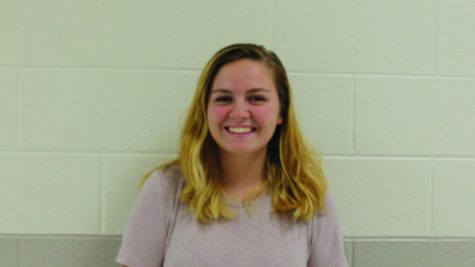 Alexis Carroll, Features Editor
My name is Alexis Carroll and I am a senior this year. This is my second year on the newspaper staff. I am currently the features editor. I love hanging...