Is Winter Break actually a break?
Hang on for a minute...we're trying to find some more stories you might like.
When Thanksgiving break ends, there's only one thing on teachers' and students' minds…getting to Christmas break! This year winter break starts on Friday, Dec. 22, and goes until Tuesday, Jan. 3, making a total of 12 days including weekends. This year's break seems to be shorter compared to two weeks in previous years.
The break is a time for students and teachers to relax and enjoy the holidays with family and friends. But for student athletes who play winter sports, their time seems to be consumed by their sport(s) and homework over the holiday break. Sports can't stop for 12 days because the players could lose their focus, and when they return they won't be in the same "groove" from before the break.
"I think it's important to continue to run over break because it helps me keep moving and keep in shape and continue to move," said indoor track athlete and sophomore Claire Blackman.
Practices continue throughout the break to help the students who are willing to come. When it comes to swim, practices stop for only three days during break: Dec. 23, Christmas Eve and Christmas Day.
"I think having swim over break is necessary because a lot of us are doing year-round swimming during that time," said freshman swimmer Patrick McKenna. "It's not very good to take that much time off, plus these practices help us get stronger."
Practices pick back up on Dec. 26 and continues until school returns.
What with visiting family and traveling, some students might feel they have no time for the extra practices.
"Between swimming for two hours and making time for running for an hour, I tend to put off any school work until the last two or three days," said sophomore Sam Graham.
While consistent practice is crucial to athletes' success, coaches do understand that the holidays bring about family opportunities that are also important.
"Swim/Dive practices over winter break are mandatory for athletes that are in town," swim coach Ryan Michel said. If the athletes are travelling with family for the holidays, there is no penalty."
Students who are traveling for the holidays may feel the stress of missing practices or not having enough time to complete homework. Christmas break is a time to relax and enjoy the time off, not worry about school and sports.
"I think the athletes still have enough time to rest without nightly school work during the break," Michel said.
The whole point of break is to actually get a break from school and the activities that come with it. Giving students work and assigning homework over the break only stresses students out. Most wait until the night before to cram everything in, and don't really put 100 percent into the homework.
"I don't think teachers should assign homework over break because it is our break," said sophomore swimmer Leanne Driscoll. "I think that holiday breaks are supposed to be for getting your mind off school for a while and enjoying time away from the stress of school and homework. I understand that they don't want us to forget what we are learning, but it isn't fair to take away from a break."
My favorite time of the year is Christmas time and spending time with my family. I love that quality time, and giving kids homework and assigning practices can take away the time spent with family.
"It is sometimes hard to do everything because I have been assigned to read a book over break along with other homework and plus holiday practices and family from out of town visiting all at the exact time," Driscoll said. "It was hard to do everything and spend time with family I don't see very often."
Some students who are devoted to school think small amounts of homework is all right.
"I think a reasonable amount of homework is okay over break so when we return I can remember items that we can learned before," Blackman said.
During the school year, students are often busy with completing all of their work and preparing for future assignments. Giving work over the break simply takes away the mental rest the students need.
"I think a small amount of homework is okay, but I think the more work we have the less interested we get in the subject, but a small amount would let us remember the information without taking too much time away from our personal life," McKenna said.
Winter break is supposed to give students and teachers a time to relax but with the busyness of life, some students don't really get a breather. So over the break, while you're in the middle of a Netflix binge after waking up at 1:30 p.m., remember those student athletes and all they're sacrificing for our school's athletic success.
About the Photographer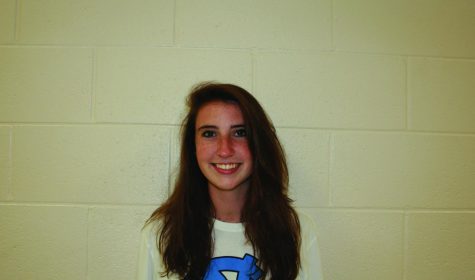 Sarah Krull, Art and Entertainment Editor
Hey I'm Sarah Krull and I'm a senior this year.  I have been on this Rooster staff for the past two years.  My favorite food is mac and cheese and...