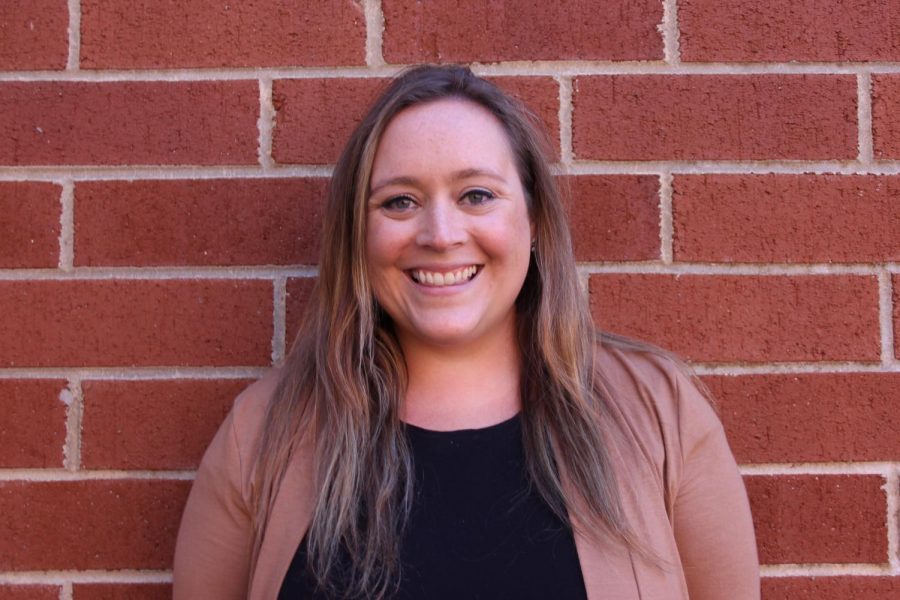 Photo by Anna Hunt
Even though there always have been high schoolers at risk for not graduating, the COVID-19 pandemic exacerbated the problem. Students were suddenly removed from the structured school environment and forced to adapt to learning virtually from home. The result of this change is a general sense of mental and academic vulnerability amongst the student population, especially those already at risk students.
To combat these effects of the pandemic, North Carolina provided funding to many high schools in Forsyth County in order to institute a graduation coach. This new position was specifically created in order to keep students on track and help them understand and complete the requirements to graduate.
"The state realized that students were falling behind," said Reagan graduation coach Lisa Bowman. "[The graduation coach] is to help be an additional support as students come back.
However, Bowman is more than just a new person in a new position. Her duties and responsibilities extend beyond the graduation coach job, and her goal is not only to help students graduate, but to make strong, personal connections with those she works with.
Bowman graduated from Surry Community College with a two-year degree, from Appalachian State University with a bachelor's in family consumer sciences and from East Carolina University with a master's degree. This is her eighth year in education, as well as her first year working for the Winston-Salem Forsyth County school system. Bowman is certain she is well prepared for the challenges ahead. 
"I feel like both of the education jobs that I've had, I kind of get to merge them together to help me with this role," Bowman said.
Bowman's role isn't cut and dry either. Her main responsibility is first and foremost as graduation coach. However, she is also a COVID coordinator, a Student Services helper, a hall and classroom monitor and a great resource for students with college questions.
"Mrs. Bowman has been a great advocate for at-risk kids," said school counselor Madison Bullard.  "She's a go-getter– she's willing and able to collaborate with teachers to get these at-risk students back up to graduation requirements."
As the graduation coach, Bowman's job is to help at-risk students complete the classes they need to have to graduate high school. Many of these students failed one or more classes and must redo and relearn the material for the class in order to get a passing grade, a 60 or higher, to receive credit for the class.
"I like that I get to kind of be their momma and keep them on track," Bowman said. "I like that side of me, being the encourager and supporter."
Many students were already struggling with staying on track for graduation even before the pandemic, which only increased the number of students falling behind. Even now, with schools bustling with students, when kids inevitably get sick, there is a major risk of them falling behind in their studies. Being a COVID coordinator and the graduation coach, Bowman is well equipped to identify a student who may fall behind.
"COVID is a crazy game we're playing right now," Bowman said. "What I like about having [COVID coordinator] in my duties now is if we have students that are already at risk, and then they get sick and they're out, they're already going to be on my radar."
Bowman also helps out in other ways. Alongside Student Services, she speaks to students about the virtues of community colleges. Bowman also oversees student ambassadors and a fourth period class of students working on Edgenuity, a website that specializes in online instruction.
As this is Bowman's first year as the graduation coach, her job is malleable. She gets to build her position and shape it to fit the specific needs of Reagan's students. Several years from now, her job could look different than what it currently is.
"With my position, it is very new," Bowman said. "We get to build it which is fun for me because with my experience, I'm familiar with building programs. If something doesn't work I like to have the ability and flexibility to change it."
Even though her job requirements may not be concrete, her goals definitely are. Since she is new to Reagan, Bowman aims to meet as many of the staff members as possible, as well as learn more about the school climate. She also is working towards forming connections with the graduation coaches at other schools in order to stay relevant concerning what they are doing for their schools.
"I think it's very important to know the different people and their roles in the school," Bowman said. "Another one of my goals is to get students caught up, the ones that are doing credit recovery."
Bowman also wants her students to know she cares about them. She believes that strong connections between students and their school life as well as their home life play large roles in whether or not they succeed. According to Bowman, when students open up, working with them becomes easier and more efficient at producing positive results.
"I love the students," Bowman said. "I'm very very happy here."