On the move: Traveling teachers overcome challenges of multiple classrooms
As the number of Reagan students rises, so does the shortage of classrooms, which requires some teachers to move around the building to teach their classes.
With Reagan's estimated student population of 2,100 and 160 teachers, the problem is evident when the original number of students, that was attending Reagan back in 2005, was less than 1,000 students.
Some teachers agree that at some point in the future, Reagan will have to be expanded to allow the proper space for all the students. Others say that if Reagan is still functioning with the proper resources to fully fill the needs of the students then there should be no worry. 
"As long as we can make it work, safe, and not overcrowded, then I like the school how it is," said EC teacher Lacey Brigman. 
For some, class sizes and the type of classes they teach are part of what designates them as a traveling teacher.
"I teach Speech and Debate, so my classes are not quite as full, and I am an elective teacher so it's kinda whatever works out," said Jeremy Livengood.
Since travel teachers do not have their own classroom, they have spaces in the teacher workrooms that are called cubbies. 
"That's our desk or home base," Livengood said. "I spend my planning periods there, and it's where I have most of my materials."
While teachers appreciate a permanent desk, there are still some negatives with that desk being away from the classroom. 
"The content I teach has a lot of gadgets that I'd like to have and occasionally when a student asks me a question, I would have to run to the backroom to grab the thing I want to show," said physics teacher Dirk Trimble. "And with being a travel teacher that limits me to be able to have that spontaneous teaching moment."
The community cubby space is also where some teachers spend their planning period and where most eat their lunches. 
"It can be distracting at times, and there are other teachers coming in and out for the refrigerator, the printers and the restroom," Brigman said.
In some cases, the teacher may not even go to their cubby if it's in an inconvenient location from their classes.
"I don't even go to my cubby much anymore." said German teacher Catherine Bormann. "It's just that my cubby keeps getting moved and it is not always convenient for my classes. For example, my cubby is downstairs but all my classes are upstairs. I mean it is nice to have a place to leave all my stuff, but it is not my ideal work location."
With teachers traveling, either from their planning period or class to class, most of them would have to go through the mosh pit. Most teachers tend to wait out the student traffic and then go to their classrooms for the period.
"What I do is that I try to avoid it; I wait around on the side," Livengood said. "The mosh pit is just the same for us as it is for the students."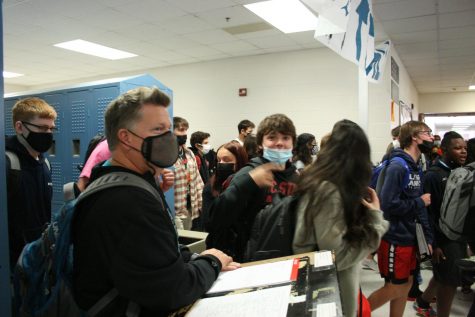 Those who wait for the mosh pit to settle down arrive either late or right at the bell. The time it takes for them to pass the mosh pit and the time for the teachers to have their materials and lesson plan ready for class has already taken time into class.
"The most-pit does have its challenges," Bormann said. "It eats up your time to get from one place to another and set up. Also, sometimes the classroom system is different from room to room, so you have to spend more time to set up and troubleshoot."
Each classroom has a different teacher with a different setting and room preference. Each of the travel teachers do communicate with the classroom teachers to compromise on how to use the rooms.
"Before everything started, Mrs. Buchanan and I made an arrangement about things like that," Trimble said. "I communicate with my other colleagues and they have all been wonderful about that."
Some travel teachers mention that they understand the classroom teachers also face some struggles with sharing their classroom.
"It has to be a burden for the teachers of the classroom we are sharing," Bormann said. "They are forced to do their planning period away from their own resources so it is a burden for everyone involved."
Travel teachers said they are appreciative to have the ability to work with a variety of teachers and students in different parts of the school, and all have mentioned that they had an amazing support group and understanding with all the teachers. 
"Having more teachers, more colleagues and a bigger school, even if it includes traveling teachers, means more opportunities which helps us improve our quality," Trimble said. "This helps bridge the gap in knowledge for students."
Leave a Comment