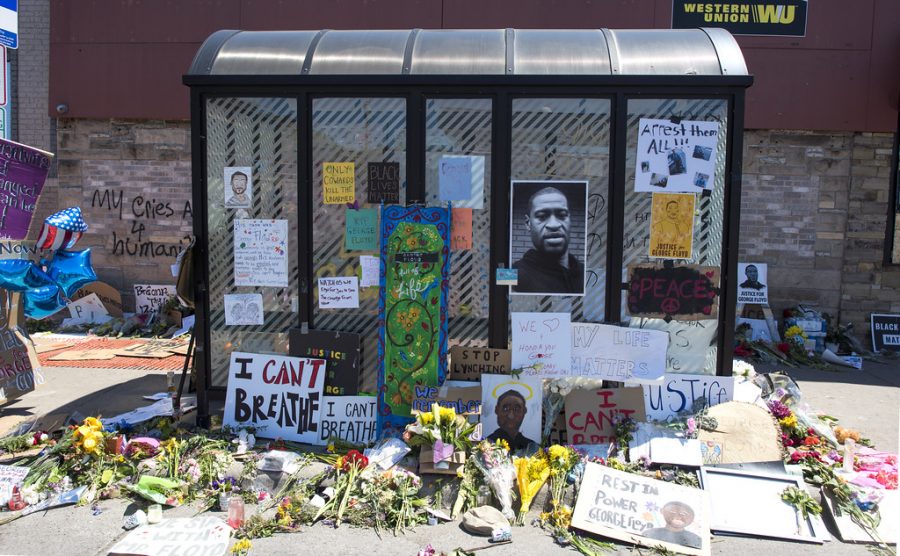 "George Floyd Memorial at Chicago Avenue & 38th Street" by Fibonacci Blue is licensed under CC BY 2.0
On Tuesday, April 20, Derek Chauvin, the policeman who killed George Floyd last May was found guilty for the murder. His trial lasted three weeks.
On May 25, 2020, Chauvin knelt on Floyd for over nine minutes, despite Floyd's plea, "I can't breathe." The counts against Chauvin included unintentional second-degree murder, third-degree murder and second-degree manslaughter. 
According to CNN, Eric Nelson was Chauvin's defense attorney, Keith Ellison was the lead prosecutor and Matthew Frank was the presenting prosecutor.
The trial included multiple witnesses and testimonies, including the Chief of Minneapolis Police Department, Medaria Arrandondo.
"There is an initial reasonableness in trying to get him under control in the first few seconds, but there was no longer any resistance, and clearly when Mr. Floyd was no longer responsive and even motionless, to continue to apply that level of force to a person proned out, handcuffed behind their back — that in no way, shape or form is anything that is by policy, is not part of our training and is certainly not part of our ethics or our values." Arrandondo said during her testimony.
There were also multiple doctors who testified regarding how Floyd died, and all of their testimonies agreed with the fact that Chauvin's actions were, in fact, what killed Floyd. 
There are different maximum sentence for each charge against Chauvin; uninentional second-degree murder at 40 years, third-degree murder at 25, and second-degree manslaughter at ten. 
The jury included four African American people, two multiracial people, and six white people. 
Each juror was given the opportunity to look over what would be presented during the trial.
"Use your common sense," said another prosecutor, Steve Schleicher. "Believe your eyes. What you saw, you saw."
Philonese Floyd, Floyd's brother, attended the trial and had been visibly praying during it. At the end of the trial, he hugged prosecutor Jerry Blackwell, Ellison, and other people involved in the trial. According to npr.org, he was asked about his prayers. 
"I was just praying they would find him guilty," Floyd said. "As an African American, we usually never get justice."
A large part of America, and even people in other countries, have felt as if a large weight has been lifted off their shoulders since the decision was made. However, many are also reminding the country that this is only one instance out of thousands, and Americans must keep holding each other accountable.