Mixed reactions to "Rebecca" remake on Netflix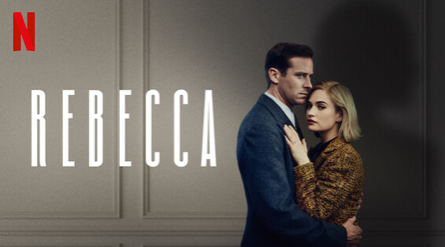 "Rebecca",  starring Lily James and Armie Hammer, premiered on Netflix on Oct. 21. This is the second movie adaptation of the 1938 novel by Daphne du Maurier. The first film was directed by Alfred Hitchcock in 1940. 
The story follows young newlyweds Mrs. de Winter (Lily James) and English socialite Maxim de Winter (Armie Hammer) as they attempt to settle into life on his family's expansive estate after the death of his first wife Rebecca. 
Rebecca seems to be all anyone can talk about as the new Mrs. de Winter struggles to find her role on the estate and with the interesting staff, including the unsettling housekeeper Mrs. Danvers (Kristin Scott Thomas). 
Although the movie is in the psychological thriller genre, thriller is not the word I would use to describe it. While there is a major thought provoking and dark psychological element, it is not exactly thrilling to watch. 
It takes a long time for the story to really begin. The exposition of the movie is unnecessarily long since it does not do much to build up the suspense or add to the plot, however, it does offer some breathtaking scenery. 
Once the plot gets moving, the movie is entertaining and keeps the audience engaged with mystery and a hint of suspense. 
The cast does an excellent job at bringing the audience into the story with their acting. James, Hammer and Thomas create dynamic characters and are very good at bringing the psychological aspect to the forefront of the story. 
One of the best parts throughout this movie is the beautiful scenery. From the green coast of Monte Carlo to the rocky gray English coast, the scenery adds an important element to the story and is definitely highlighted by director Ben Wheatley. 
In addition to the scenery, the sets in combination with lighting design bring the story to life and make it feel as though these places really exist, even if they are not places anyone would want to go. 
The costumes are another win for this movie remake. The outfits are not only beautiful, but build on characteristics for each character. 
Many fans of Hitchcock movies have criticized the new "Rebecca" for not living up to the original, while others see it as a new and improved retelling of the classic story. 
"Rebecca" may not be on the must-watch list for Halloween, but for a new psychological thriller it is definitely worth the two hours to watch.