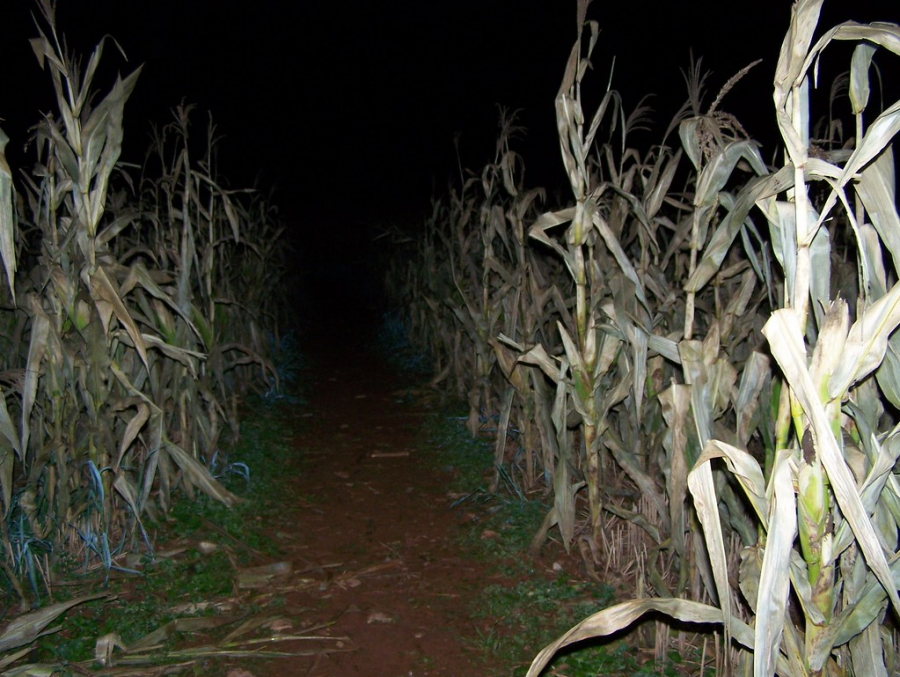 Anna Hunt
On Saturday, Sept. 25, Hillside Horror, a popular haunted attraction, opened up once more to deliver it's fabulously terrifying dose of fear to North Carolina residents in time for Halloween.
Hillside Horror is a Halloween themed attraction nestled in Roaring River, North Carolina. Having been operational for over a decade, Hillside Horror has grown since and perfected the art of scaring. This attraction contains not just a single feature, but a variety of different ones including haunted houses and trailers, spooky graveyards and even a creepy corn maze.
As someone who avoids horror films and does not like to be frightened, I actually had a great time at Hillside Horror. After the initial anxiety wore off, I managed to have lots fun by enjoying the scares and interacting jokingly with both the child and adult actors there. 
At the beginning of Oct., my family and some of our friends made the decision to try a scary attraction like this for the first time in many years. The anxious anticipation began before we even arrived. As the ticket booths open at 7:30 p.m., the sun was already setting as we drove through the quiet and secluded countryside.
As soon as we arrived, we knew we would be in for a long, terrifying night. Actors in creepy clown costumes scaring those waiting to enter the attraction created an atmosphere of uneasiness and tension for our whole party and the other participants in line. The line itself was not very lengthy, and it moved at a surprisingly quick pace.
The entrance fee for that night was $20 a person, but depending on the night, the fee could be $15 instead. The fee changes for the post-Halloween months, Nov. and Dec.. Though it seems expensive, Hillside Horror land stretches over 12 acres and it allowed us to move at our own pace. Our party braved the horrors found within for over an hour before finally reaching the end.
Hillside Horror begins with a creepy haunted house, and the screams of the people who went before us were bone chilling. In the house is a dark tunnel that you must crawl through to get to the other side, and all I am going to say about it is that I wish I had been aware of who had been behind me when I went in. 
Directly after the haunted house is a corn maze where most of the actors are found. It is very dark, and there are many creatures hidden within the corn stalks ready to jump out without warning. Thankfully, due to COVID-19, the actors are not allowed to touch people or get too close.
 It felt like an eternity stuck in that corn maze, but the night had just begun. Haunted trailers and graveyards yielded frights to those unprepared. Human butchers and creepy clown carnivals kept us on our toes. My personal torture, the trailer full of dolls, left me cowering in fright!
When we escaped the chainsaw murderer at the end, we were all relieved to be out of the woods. Literally. We left Hillside Horror chatting excitedly about what we had experienced there which had been more fun than horrifying.
"It was really great. Lots of fun and spookiness," said anonymous, who also attended Hillside Horror this year. "I loved the different scary scenes!"
There are bright lights, loud noises and jumps scares that contribute to the attraction, so I would not recommend anyone with physical disabilities, anxiety disorders, heart conditions or sensitivity to any of the above to attend, or to do so at their own risk.
Overall, Hillside Horror is an enjoyable Halloween activity to do with the whole family if you want some fun scares. The elements of the attraction are not as frightening as I thought they would be, so if you are a hardcore horror fan looking for paralyzing fear and terror, I would try someplace else. For everyone else, I definitely recommend this, and I give Hillside Horror a well deserved 8/10!