Security issues with TikTok, is it safe to use?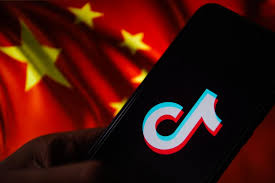 TikTok has become one of the most popular social media apps among teenagers and children with over 1.5 billion downloads. The app is mostly used in North America and the United Kingdom. The parent app of TikTok is ByteDance, a chinese company with headquarters located in Beijing. US military officials suspect the app is being used for chinese government surveillance. Some even claim that TikTok threatens US national security. How could the app be used to harm its users? 
Check Point, a cybersecurity company in Israel, conducted a series of tests on the app to try and identify any security flaws or issues. They found a weakness that allowed hackers to manipulate user's data and exploit personal information. Hackers could send users messages that carry malicious links. Once the link is clicked, hackers can take control of accounts, upload videos, and even gain access to private videos on the user's phone.
American lawmakers say TikTok censors material that the Chinese government does not like or agree with, and allows Beijing to collect user data without legal permission. There is also the concern that the app's users are young adults or younger, all unaware of the dangers if the security of the app was breached. Some branches of the US military barred personnel from having the app on their government-issued smartphones.
Check Point also found various functions of the app including sending video files, which was proven to have security issues as well. Check Point tested this by sending themselves links with malware. The study proved that the app is vulnerable to a type of attack that injects malicious code into trusted websites. Check Point informed ByteDance of the problems it found, and those problems have yet to be resolved.
The Federal Trade commission filed a complaint last year, accusing TikTok of illegally collecting personal information from the age group that dominates the app's community: minors. TikTok later agreed to pay $5.7 million to settle the complaint and promised to abide by the Children's Online Privacy Protection Act (COPPA). The act is designed to protect children under the age of 13 from harmful content on the internet. Studies show that 60 percent of the 26.5 million users in the United States are between the ages of 16 and 24. 
"I think one of the biggest concerns are how people use the app and don't necessarily know who they're interacting with or what data is being collected," said UW Madison professor Don Stanley. 
TikTok claims they have looked into the issues and resolved them, but there are still worldwide doubts. TikTok also says that regional managers have autonomy over all operations and that China does not have jurisdiction over content. Officials advise against downloading the app altogether, but the app's popularity continues to rise with over 110 million downloads in the US alone. TikTok has become a phenomenal platform among the young adult population, but security threats and issues leave adults and officials asking the question: is TikTok safe and fully secure?
About the Writer
Tori Suhre, Rooster Reporter
Hi! My name is Tori Suhre I am a junior. This is my first year on the Rooster staff. I love writing and reading fiction stories. I am hoping to be a published...