Woody Faircloth a CNN Hero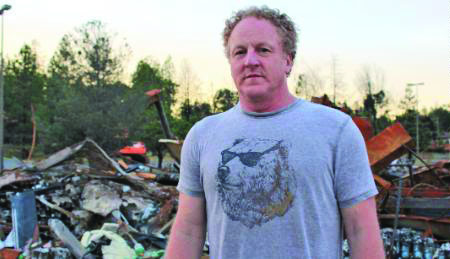 The 2018 California wildfire or  "The Camp Fire", named after its origin, was the deadliest and most destructive wildfire so far in California. Almost 14,000 homes were burned beyond repair. The fire left many people homeless and desperate for somewhere to sleep.
Woody Faircloth saw these horrors from his home in Denver, CO. and knew he had to do something. What started as a GoFundMe to buy RVs for the victims, became a nonprofit organization called RV4CampFireFamily. 
"When we first drove to California, I never expected to still be helping today," Woody Faircloth said. "It's been exhausting work at times, but when you see people up close who are hurting and really need your help, it's really hard to turn your back on them"
Faircloth and his family buy or receive donated RVs, fix them up and fill them with supplies for families or individuals who were displaced. He delivered his first RV just before Thanksgiving in 2018, driving to California with his 7-year-old daughter Luna. Since then he has delivered more than 70 RVs to families, single parents, veterans, and medical cases. 
"These are not long-term living situations. But when you're living in your car or a tent, it's like moving into the nicest home you've ever lived in," Woody Faircloth said.
Because of his impact on the lives of so many victims, he was named a CNN Hero in August, and was chosen as one of the Top 10 CNN Heroes of 2019 in October. The finalists are chosen by an editorial board at CNN and the winner is decided by a popular vote of the public.
CNN receives over 100,000 online nominations from over 100 countries to be named a CNN Hero. 
"I have no idea who nominated me, but I am grateful that someone thought enough about what we were doing to help fire survivors to nominate us," Woody Faircloth said.
Something special to Reagan is the fact that Woody Faircloth is the uncle of senior track star Sophie Faircloth. 
"I am extremely proud of him," Sophie Faircloth said. "When he donated the first RV I never thought that his idea would spread as much as it did, but after all the RVs he has been able to donate today it's amazing to see the impact he's making on these people's lives."
Like many Reagan students, Sophie has watched CNN 10 in many of her classes and was very familiar with the annual Top 10 Heroes list. Seeing her uncle among the other heroes from around the world was something special.
"When I found out my uncle was a part of that top 10 this year, it made me realize that there are so many good people all around us and it's awesome to see some of them getting recognition for it on a global stage," Sophie Faircloth said.
Faircloth and his family in Colorado have received a lot of support from his family in Winston Salem. They are his biggest fans and hoping for him and his charity to win the competition. 
"We have all been voting for him everyday and spreading the word for others to vote as well," Sophie Faircloth said.
The organization is still donating RVs and supplies and has a website with the requirements and more information about the process and how to donate an RV or money to cover repairs. 
"I feel fortunate to have a platform to be able to help others in need. These poor people have been through so much in the last year. It's the least we can do to continue to help," Woody Faircloth said. 
After about a month of online voting, the winner was announced during the "CNN Heroes: An All-Star Tribute" gala that was live on Sunday Dec. 8. The winner was Freweini Mebrahtu who received $100,000 for her cause. 
About the Contributors
Madison Hepler, Arts & Entertainment Editor
Hi! My name is Madison Hepler and I'm a junior. This is my second year on staff and I am the Arts and Entertainment editor. I love to read and watch...