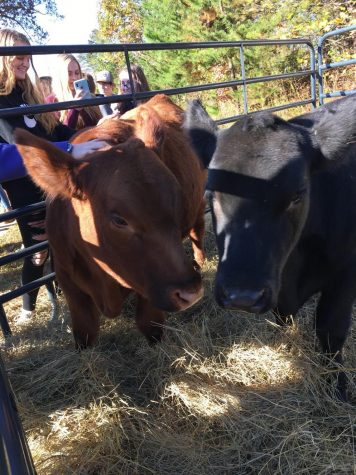 Agriculture Day is a much-anticipated event for the Reagan High School student body. Hosted by the Future Farmers of America, it's a big hit every year. Thankfully, for the first time in a few years, the weather has been perfect with the warm sun and the absence of rain. "Last year it was raining, so we didn't have that big of a turnout," said FFA Advisor Emily Livengood. "The turnout is a lot more."
Large crowds of students and teachers alike crowd the few tents and animal pens. "My favorites are the ducks and the goats," said freshman Carson Germyn. There were also several chickens, cows, miniature horses and even a large, energetic dog.
The animals brought in for Ag Day are the cornerstone for the celebration. Freshman Coleman George said, "….looking at the wildlife,"  was his favorite thing at Ag Day.
This is not to mention the other activities including the classic corn hole and the hay bale toss, where students could compete to see who could throw a heavy hay bale the farthest. Guys and girls alike would stand in line and wait for their chance, or cheer on their friends.
  The FFA incorporated several new features in this year's Ag Day. "Our new features that we have this year are two colleges are here, Surry Community College and Forsyth Tech." said Livengood. This was a big step in helping to promote Ag Day to the student community.
 The FFA also has some big plans for the future. 
"We want to grow it (Ag Day), maybe get some more animals here, get more people involved, and maybe get some additional clubs involved." said Livengood. 
Ag Day was definitely a treat for the Reagan Raider community,and is a well loved tradition. Thanks to the hard work and dedication of the FFA members, Ag Day was certainly a hit this year!