State Superintendent visits Reagan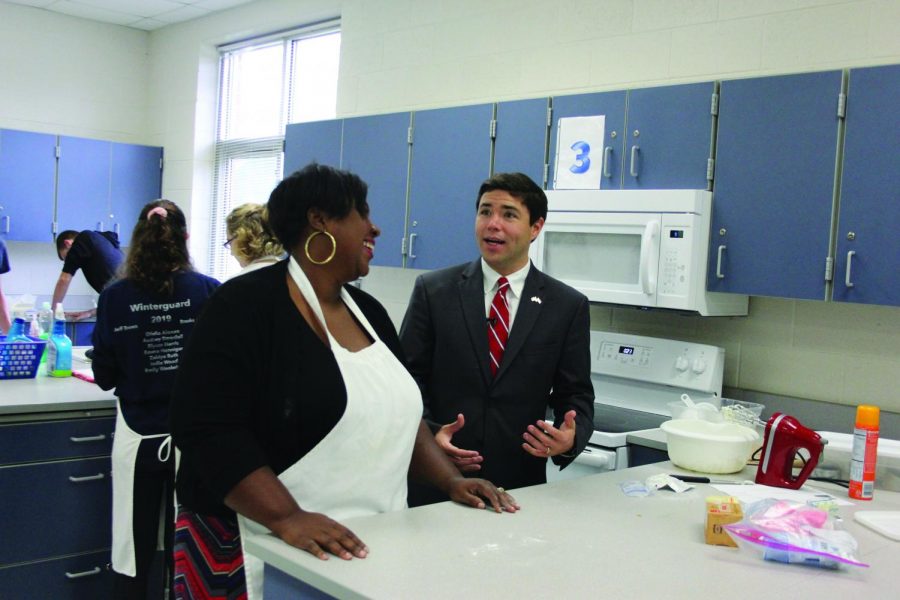 Leah Boone, Emma Rose Olsen, Opinions Editor, Copy Editor
October 24, 2019
On Thursday Oct 10, State Superintendent Mark Johnson visited Reagan to observe the NC school with the highest growth from 2018-19 school year. Student leaders Catherine Wondra, Gabriel Hollingsworth, Jon Gullette and Niya Grant provided a full tour of the school for Johnson and other members of the school board.
During his tour of the school, Johnson visited multiple classrooms to get a feel for Reagan's working environment. Johnson visited Helen Wrobel's Biology class, Chris Vogel's Anatomy class, Emma Couch's Zoology class, and Janie Johnson's Math III class. 
"You all completely knocked it out of the park and Reagan High School is the high school in the state with the highest growth. That's a really, really major accomplishment and something that you should be really proud of. It's a real testament to the hard work that you all put in." Johnson said. 
Communications Director Graham Wilson, new Superintendent Dr. Angela Hairston and Representative Conrad from Raleigh also accompanied Johnson on the tour of Reagan. 
"Growth is a very important factor and we are interested to see how you guys did that," Johnson said.
Johnson was elected to represent the North Carolina school system as State Superintendent in 2016. He was a teacher in Winston-Salem and was on the board. He ran for the position because of frustrations that he had with the Central Office.
When he is not working, Johnson loves spending time with his first grade daughter.
"I make sure that when I'm home on the weekend, I spend time with my daughter. We do all kinds of things." Johnson said.
When he was in school, Johnson's favorite subject was history because he thought of it as an ongoing story and loved hearing the next chapter. 
Reagan is currently being used state-wide as an example of a diverse school that achieved the highest growth. School Board and Central Office members will be closely examining the growth that was achieved.
Johnson believes that it is more than just the teachers that factor into a schools growth. 
"You all are the ones who did all the hard work," Johnson said. "Walking through the hallways we see all of the engagement going on."
In all the classes he visited, Johnson made sure to tell the students he was proud of all their hard work and dedication to school.
Johnson expressed multiple times during his visit to Reagan that he believes the teachers are the most important part of the classroom. He believes that great leadership and determined students create the ability to grow as much as Reagan has. 
Johnson also expressed his belief that extracurriculars are important in helping decipher where life takes someone.
While he does believe in a good education, he preaches his understanding that college is not for everyone. He believes that everyone can have a successful career but that comes with hard work.
"No matter what your interest is the one thing you've got to remember is the work you do here determines what you're going to do for the next 40-50 years of your life," Johnson said.
Johnson has been working to create multiple iPad initiative all over Winston-Salem/Forsyth County Schools. One of his plans is to have at least four Ipads in every K-3 class in the state. His other plan is to allow any teacher who wants Ipads in their classrooms to have access to them.
"iPads, when used appropriately, can be a really good tool for our youngest learners. If those school districts like Ipads, that's what they're going to get. If they like other devices, they'll get the other ones. It is a tool for the teacher to use for their students," Johnson said.
To conclude their visit, Reagan's Jazz band and the Raiderette dance team performed for Johnson and his associates. Afterwards, Johnson, Hairston, and Conrad spoke to students and faculty attending the assembly. Johnson spoke a lot about self-identification and knowing what is right for each individual.
"All I ask right now is that you continue to work hard and you investigate what can be the path for you. Remember, it's all about hard work," Johnson said.