Point: New Taylor Swift makes 'ME!' want to dance
The first single of Taylor Swift's seventh album dropped on April 26 and it's kind of a bop. I have been super excited since I saw a shift in Swift's Instagram feed on February 10. The dark and dreary vibes were suddenly replaced with rainbows and happiness and I am here for it.
There was speculation about a new album when her feed swiftly changed, and finally, we got a date to look forward to. Swift teased the date with each Instrgam post of seemingly random objects like her cats and scenes of pastel accompanied with the caption of "4.26".
On that fateful day, Swift dropped "ME!" which was a collaboration between her and Panic! at the Disco's Brandon Urie. When I first listened to the song it made me smile. The music video is filled with even pastel colors and animated facial expressions. Her era of scary snakes exploded into much more friendly butterflies.
The day before the album dropped, Swift unveiled a mural of a butterfly. On the butterfly's wings are cats, flowers, hearts, and rainbows. Swift even told us the name of the song before it dropped. Between the two wings is the word: Me!
Many people think the song was rather repetitive, and yeah it is, but I think the catchy beat and Urie's verses really make the song, but this new album aesthetic sets Swift up for songs that remind us of her first albums. We wanted happy Swift and she's here, but people are still complaining.
I don't think Swift will ever win back some fans she lost in the reputation era, but I think this album will help with some of her fan bases. As for me, I liked some songs on reputation. It was a needed moment of crazy in response to the Kanye West and Kim Kardashian drama. Now that the cloud of snake-infested dust has cleared, it's given way to a butterfly.
I have hope for this album mostly because of all the wonderful Easter Eggs Swift left for us in the video. She paid homage to her era of darkness with the exploding snake and lyrics like "I know I went psycho on the phone." I took that lyric as an apology for "Look What You Made Me Do" as a whole. She also wears silver cowboy boots in one frame of the video, possibly hinting at a return to her country roots.
I am super excited about the album as a whole and Swifts' return to her peppy love songs. Long live the queen of cats and all things pastel.
Don't agree with this article? Check out the article by Rily Bellias:https:https://reaganrooster.com/?p=3558&preview=true
About the Contributor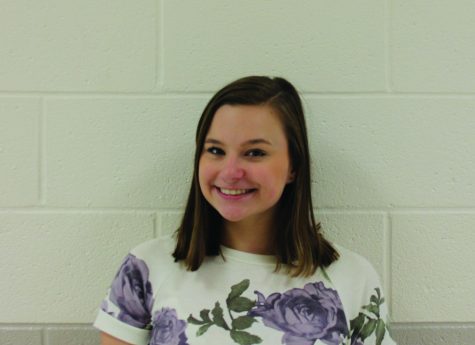 Taylor Ann Hartley, Online Editor-in-Chief
Hi! My name is Taylor Ann. I am on the Varsity Dance team at Reagan. I enjoy stickers, fun socks, and matching outfits with my dog. I love the shows Friends...