Reagan Gains Some Power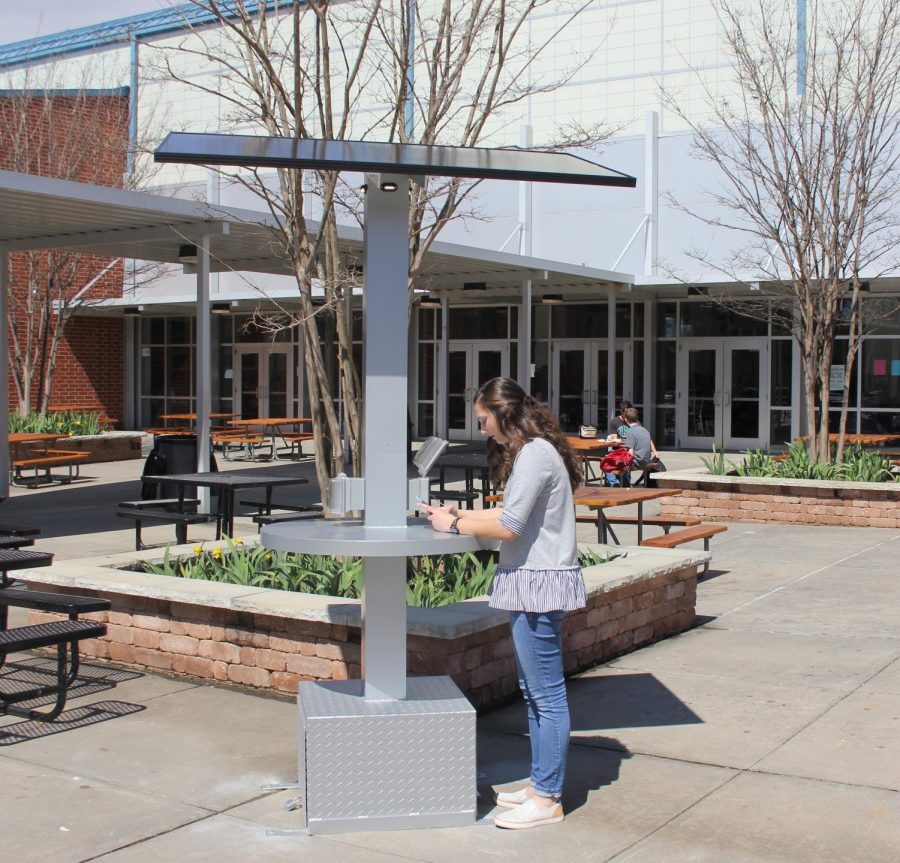 Reagan's teachers and faculty are known for educating students and making school a better place. Science teacher Ed Thutt is not only educating students on solar panels, but he is also giving back to Reagan's campus.
Thutt has won two grants for his craftsmanship in the cafeteria courtyard. The grant pays for solar panels that students may use to charge their phones. Students can use these solar panels before school, after school, and during all four lunches.
Allowing students to charge their phones in the courtyard will makes for less distraction in the classroom. Students sometimes focus on charging their phones in class, rather than focusing on learning.
"I think it's great that we will be able to charge our phones and save energy at the same time," senior Sasha Hayes said.
Thutt received the grant from Energy United, a local electricity business, and the second grant from Allegacy Credit Union. The solar panels were ordered in  Jan. 2019 and were installed earlier this month.
Thutt was awarded 1,280 dollars from Energy United and 4,000 dollars from Allegacy Credit Union. In the application process, Thutt had to explain how the money could benefit Reagan and the students.
"The primary way that this grant will benefit students is that it will help to educate them about how solar power can benefit lives," Thutt said. "The solar collector panels have an important role in solving the energy needs of the future."
With the correct amount of protection from potential damages from students and weather, Reagan can utilize this gift from Thutt for up to thirty years.
The panels are mobile and will be transported back and forth from inside the building . This will be useful for when school is closed for holiday breaks and any weather closing.  The solar panel will locked to a column overnight to prevent any theft.
The panel won't only utilized the cafeteria courtyard, it will also be tested out in the football stadium and the baseball field during games. The location of where the panels will be during sporting events is still being discussed.
This means coaches and athletes can also benefit from these solar panels while focusing on their game. While watching the game, students and parents can also charge their utilize these panels.
"With being an athlete sometimes my phone's battery can get low when I'm cheering or running track," said junior Trinity Callahan. "I think the panels would be great to have on the track."
"If [the solar panels] are successful, perhaps the school system can be convinced to install permanent solar arrays on our school roofs," Thutt said. "This can provide low cost, sustainable electricity for students for students for years to come."
Solar panels are not the only change coming to Reagan in the future. Some of these plans include saving energy and helping benefit Reagan's athletic department and students.