Brad Royal Hometown Hero
Reagan principal lives his dream, helps students work to live theirs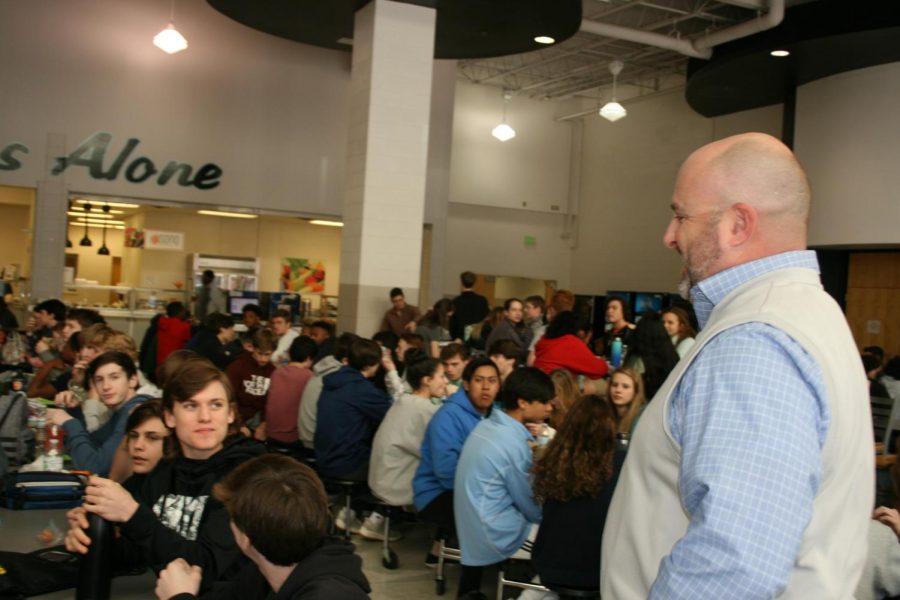 Every Reagan student knows the name "Brad Royal".  Some see him often, some do not see him at all. But all student's lives have been touched by Royal, whether they know it or not.
Going on his third year as principal of Reagan, Royal is truly living out the life he always wanted.
"When the school was built, I wanted to be principal here," Royal said.  "I am that guy who can tell you that all of his dreams have come true. I get to do everyday exactly what I want to do, exactly where I want to do it."
Royal has been influenced by principals and other administrators since he was a young child living in Elkin, NC.  Majoring in chemistry at University of North Carolina at Charlotte, Royal earned his certificate to teach. His first job was in Gastonia, NC.  Work and family brought him to Forsyth County, where he worked at various schools including Jefferson Middle.
"I spent a lot of time in the office as a kid, especially in the eighth grade," Royal said.  "I spent so much time in the principal's office, that's what inspired me to be a principal."
Royal's enthusiasm towards Reagan doesn't just stop as his role as a principal. He makes it a goal to make a personal connection with each student. During all lunches, you are most likely to find him in the lunchroom just as all the other students eat their lunch.
Having a daughter himself, who is already attending college at the University of North Carolina at Wilmington, he makes it his goal to lead students to further education.
"Adults forget it is hard to be a kid," Royal said. "I watched the things my daughter enjoyed; I watched her struggles, her stresses.  I watched her do AP homework till 1 or 2 in the morning. I got an up close and personal view of what it's like to be a kid again, and I hope it has made me a better principal."
Throughout his three years, Royal has made himself known among not only the Pfafftown community but the Reagan community as a whole. He exemplifies what it means to be a hero and how school authority figures can make personal connections with each and every one of the students in the school.  They have the ability to make the school feel welcoming.
Questions:
Sarah and Haylie: What is the most exciting thing you're working on right now at Reagan?
Brad Royal: Every day is exciting to me.  I like being around kids and I like what we're doing.  Everything that I do here is exciting because I get to work with kids.  I challenge you guys to do your best but I feel like for that to happen I have to model that first and give it my best everyday.  I ask my teachers to do the same. Who are we to ask you to give it your best if we're not giving our best? I spend a lot of time, regardless of sleep or the amount of pressure central office is putting on my, trying to make every day fun and exciting because I get to work with kids.
Sarah and Haylie: How has being a principal at Reagan changed you?  
Brad Royal: I don't have as near as much spare time. I've been a part of this community for two years as a resident, but being principal has increased my love and passion for our community. Not just the Pfafftown community, but the greater community that comes to Reagan. I hope that I've become a better person around you all.
Sarah and Haylie: I know you saw the racist video that went around recently.  What inspired you to begin the student forum and how do you feel it has impacted Reagan as a whole?
Brad Royal: That was a bad day and a bad time.  That kind of language goes against everything I believe in.  I was devastated because I love this place so much that I can't fathom something tarnishing the image, but that fallout of it upset me.  I didn't like that people outside of the community labeling our school community as racist when that couldn't be further from the truth. It angered me and I wanted to get the truth out.  The best way I thought to do that was through the power of kids. The Student Forum was just an idea that I had where students would come together and just have a conversation and share how they feel.  Then we could take that message out and tell the world that this is who we really are. We are not one video. But also as our guest speaker at the Forum talked about, there has to be elements of forgiveness, too.
Sarah and Haylie: Coming towards the end of your third year, how do you feel about Reagan and do you think you made a difference?  
Brad Royal: I hope I have made a difference. I have made an effort that students come first and I feel like I'm leaving a good mark on the school and community. The school has been the highest academically and I feel like our school is producing great citizens. My goal is to leave it better than I found it and I still have work to do. This school is still the best. I want our kids to win here. I want people to look here and think that's where I wanna go to school. I try to do this job as a dad because I love being a dad. I always want to try to create a school that I would want my kids to go to.
Sarah and Haylie: What is your favorite hairstyle?
Brad Royal: Well, something different than what I got.  The guy that's got the best hair in the building has got to be either junior Gabriel Hollingsworth or senior Christian Hicks.  I would want a combination of Gabriel's long hair and Christian Hicks' hair. I don't know what that would look like but I think it would be pretty cool.  
About the Contributors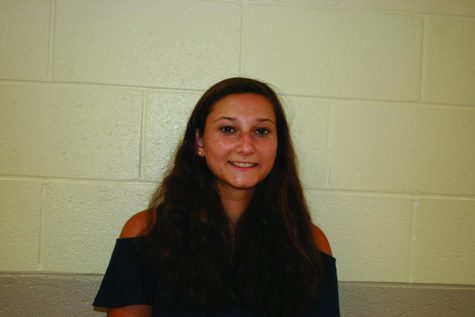 Haylie Paulin, Online Editor-in-Chief
My name is Haylie Paulin, I am a senior and this is my third year on the Rooster staff. I am the captain of the women's golf team,the state Latin Torch...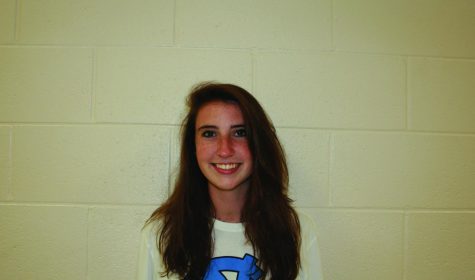 Sarah Krull, Art and Entertainment Editor
Hey I'm Sarah Krull and I'm a senior this year.  I have been on this Rooster staff for the past two years.  My favorite food is mac and cheese and...