Sole Survivor: The only senior in the class
Hang on for a minute...we're trying to find some more stories you might like.
Lots of people have been in a class with one senior in it before. But what is it like to be that one senior in the class?
"If I described it in three words I would say funny, easy and interesting," said Maggie Mabe, a senior in Amber Bryant's Intro to Journalism class.
Intro to Journalism is an elective that tends to have a lot of freshmen, whether the kids are looking to continue a career in journalism by joining the newspaper or yearbook staff, wanting to get a taste for what one of those classes may be like, or just trying to fill out their schedule.
Being the only senior in a class can lead to a lot of questions from the younger students, about what to expect or what to prepare for in their later years at Reagan.
"I feel like the younger kids looked up to me when I was on homecoming court, but now they just ask what years are the hardest," Mabe said.
Having a senior in their class may be a good way for freshmen to ask the questions they haven't or don't want to ask teachers. That one senior in the class may be a way for younger students to find out a lot of extra information about the school on what classes to take and where they should take them.
One question that would arise from being the only senior in a class, particularly if most of the class were freshmen and sophomores, would be if the teacher would treat you differently due to being older.
"When Mrs. Bryant gives everyone new seats, I never get one and she always checks in with me to see how ready I am to be done with school," Mabe said.
Another course where age can be spread out is in Spanish since different students start out at different points and may pick it up or leave it at points throughout high school.
Uriah Cummings, a senior in Misol Rodriguez's Spanish II class is also the only senior in her class. She started Spanish as a junior and decided to continue with it through her senior year.
"Mrs. Rodriguez is a really good teacher and she's super nice to everyone," Cummings said. "But I feel like she's been extra nice to me this year, which has been nice."
Spanish II is mainly composed of freshmen and sophomores but it encompasses all grades and has a fair share of juniors, too. It is also picked up by students later in high school if they find they need a certain requirement of a foreign language to go to the college they want to.
"If I described being the only senior in her class in one word, I would probably have to say fun," Cummings said.
About the Writer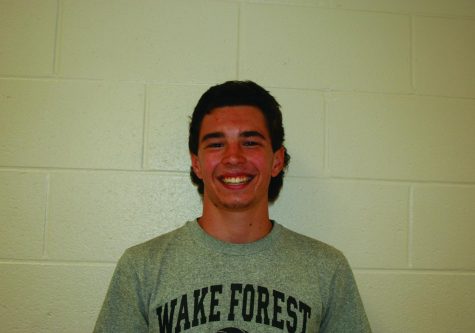 Sam Graham, Sports Editor
I'm Sam Graham. I'm a junior and this is my second year on the newspaper staff. I run cross country and track for the school and I swim. I love to...