New bakery opens in The Village at Robinhood Road
New bakery Baked Just So has opened in the Village at Robinhood shopping center at Robinhood Road and Meadowlark Drive. Owned by Stacy Milner, a single mother of three, the small bakery sells a variety of homemade pastries, ice cream, and air roasted magic beans coffee.
Baked Just So has been successful for the three months since its opening and has steady business from morning into the afternoon. It has a kid-friendly environment with great treat options for all ages. There was a need for a bakery in the Meadowlark area, and it has definitely been filled.
Baked Just So has a variety of items for those people who have specific food allergies and preferences, such as sugar-free coffee syrups and gluten-free items. The gluten-free brownies are perfectly moist and rich. Specially-made orders that will fit the customer's dietary needs are available on request.
Milner worked at Milner Brothers in Clemmons as the pastry chef for a short period before it closed.
"This bakery is a dream for me," Milner said. "I went to culinary school years ago in Charleston. I was a pastry chef while I was there. I'm doing what I want to do and that's pretty special."
Baked Just So is located where Atelier Bakery was for a brief time in an attempt to open a second location by the owners.
"This space found me," Milner said. "A friend and I were meeting and he asked why I wasn't in this space. From there he set me up with the previous owners and it all worked out."
Everything in the bakery is Milner's recipe and sourced locally. Air roasted magic beans are fresh, local coffee beans that are hot extracted coffee concentrate. The beans are placed in a small container and artisan air roasted in Winston-Salem, an excellent example of local businesses supporting one another.
The most popular items in the bakery are cinnamon buns and the apple walnut bars, similar to apple pie. Milner also has some seasonal recipes such as pumpkin spice pastries.
"People love the pumpkin strudel doughnuts," Milner said.
Milner claims that as she eats a lot of her homemade sweets, it is hard to choose her favorite treat on the menu. She is constantly testing the quality of her menu items.
"I really like the cinnamon bun but I never sit down and eat a whole one. I'll take the best bite of it," Milner said.
The operating hours recently changed which was announced on Facebook. Originally, the bakery opened at 7  a.m.  and closed at 8 p.m., Monday through Friday. Hours are now 7 a.m. to 5 p.m. on Tuesday through Saturday and Sunday from 8 a.m. to 2 p.m. This allows Milner more time with her family at home after her children get home from school.
Milner does not have a specific vision for Baked Just So, and is more focused on the present operation of it, but she does have some hopes for it.
"I hope one day the store would be bustling with friends, families and, students," Milner said. " It would be great if the bakery could run itself so I could spend more time with my family."
Milner also hopes Baked Just So will become a place for studying and meeting friends.
"I want students at Reagan to know that Baked Just So is a great place to hang out," Milner said. "It's just a fabulous place to be."
There was recently an event held after hours to support Brenner Children's Hospital and Cancer Awareness Month. LuLaRoe clothing products and Usborne books were sold and donations were made to the hospital. The bakery plans to continue holding events after hours.
Baked Just So should continue to be successful and develop into a popular meeting place for many different groups of people.
To find out more about Baked Just So, visit them on  Facebook or on Instagram
About the Contributor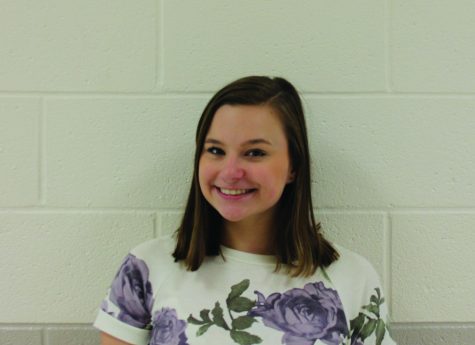 Taylor Ann Hartley, Online Editor-in-Chief
Hi! My name is Taylor Ann. I am on the Varsity Dance team at Reagan. I enjoy stickers, fun socks, and matching outfits with my dog. I love the shows Friends...